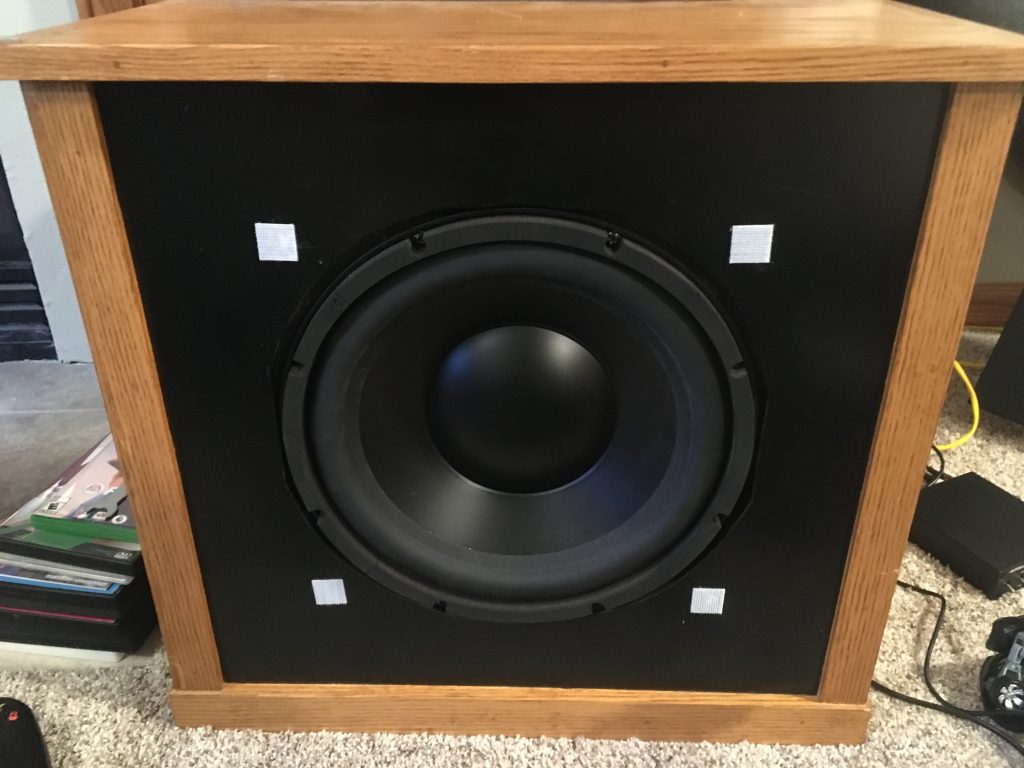 Titanic upgraded to High Excursion
---
Designer:
Mark Bushinski
Project Category:
Subwoofers
Project Level:
Beginner
Project Time:
1-8 Hours
Project Cost:
$100 – $500
Project Description:
My relative receives quite a few of my audio projects. He has been using the original Dayton Titanic 1200 that I purchased in 1999. I thought he would enjoy upgrading 20 years of subwoofer technology so I helped him install a Dayton Audio RSS315HE-22 12″ Reference Series High Excursion Subwoofer.
Design Goals:
More clean bass than the existing subwoofer with minimal time involvement.
Driver Selection:
Driver selection could be considered overkill. The past year I've been taking harmonic distortion and Intermodulation distortion measurements of 12″ subwoofers. Of the 15 drivers I tested the Dayton RSS315HE-22 Part # 295-291 did the best in the deep bass. More info here: https://www.facebook.com/groups/DIYLoudspeakerProjecPad/permalink/1542634879425677/
Enclosure Design:
It is 100 liters which is a big box for the HE. The QTC is .54 modelled f3 is 52 and f10 is 24hz. Which doesn't sound that impressive, but with low bass gain from room acoustics this thing is a monster.
Enclosure Assembly:
My friend help me put the box together 20 years ago. The box is 3/4 oak MDF with a double thickness baffle. Solid oak trim.
Tips & Tricks:
Although the driver dropped right in the surround on the HE is so much higher than the Titanic so I still need to modify the grille.
Conclusion:
My relative is happy he likes the deep bass with a solid kick! This actually turned out to be less of a project than I thought. I had brought along my jigsaw, router and drill as I thought I would have to modify the cutout and drill new holes. To our surprise the HE dropped in and the bolts lined up as well. In fact many 12″ drivers including the Dayton Ultimax, The Dayton RS HF, GRS 12SW-4 and Eminence Lab all mount in the same cut out and bolt center diameter so it's easy to upgrade to a HE.
About the Designer:
I've been building speakers for 25 years. I've been trying to get into making more "traditional woodworking projects" but what good is a piece of furniture if it doesn't play music?
Project Parts List:
| | | |
| --- | --- | --- |
| Part # | Description | Qty |
| 295-291 | Dayton Audio RSS315HE-22 12″ Reference Series High Excursion Subwoofer 2+2 ohm | 1 |