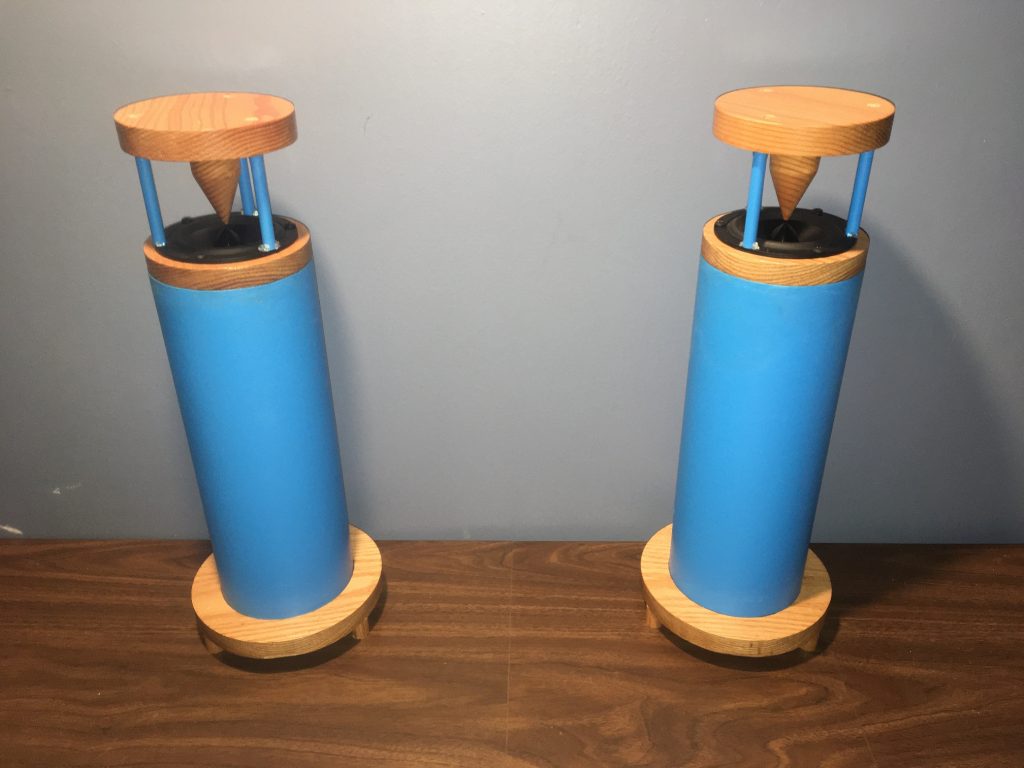 Top Hats in Fir
---
Designer:
Mark Bushinski
Project Category:
Freestyle Speakers
Project Level:
Intermediate
Project Time:
20+ Hours
Project Cost:
$100 – $500
Project Description:
I was always intrigued by Mike V's Top Hats Project from 2012. However the price of the crossover components and cabinet spikes put me off. However I watched for buyout crossover components sales and came up with a way to create the reflector from solid wood.
Design Goals:
The goal of this speaker was to build an omnidirection speaker at a low price.
Driver Selection:
This speaker uses the Dayton rs-100 4" full range.
295-378
Enclosure Design:
The main enclosure is a 12" long 4" pvc pipe with solid wood flanges at both ends. 12" is an inch longer than the original top hats but the local hardware stores sells pvc by the foot so and this allowed a hz or two lower f3 based on modeling. I used oak for the flanges and douglas fir for the reflector. I was lucky to find a full 4×4 chunk of douglas fir in a kindling bag I bought from a local lumberyard. My father helped me turn the reflector on the lathe. It was very time consuming to make from one piece.
Enclosure Assembly:
The enclosure was glued using silicone adhesive. The reflector bolts from the top down into the baffle. I tapped the oak baffle to receive #6-32 machine screws. The bolts were covered up by arrow shafts that I painted the same blue as the tube.
Crossover Design:
I used the crossover values from the original top hats. I tried changing the component values a little in a crossover modeling software xsim but didn't see a reason to change anything.
Tips & Tricks:
I had an issue with the arrow shafts vibrating and had to add a ring of silicone around the top and bottom that is a little unsightly. If I do a similar build again I will look into using wood dowels or something denser.
Conclusion:
Bass is solid down to 60 hz. Upper bass 100-200 hz is somewhat elevated but in most music it brings the drums and bass guitar to life (see pink noise RTA). Upper bass is also very clean, attached is a 140 hz sine wave at 80db at 1 meter the 3rd harmonic is about -50db. Being a small single driver these speakers can't get super loud but there are good enough for me. Comparing these to the apple homepod the top hats sound much more natural. The homepod only excels in low bass 40-60 hz.
About the Designer:
I've been building DIY speakers for 22 years and this project has opened my eyes to different speaker building styles. Don't think I'll every build standard two way bookshelf speakers again.
Project Parts List: