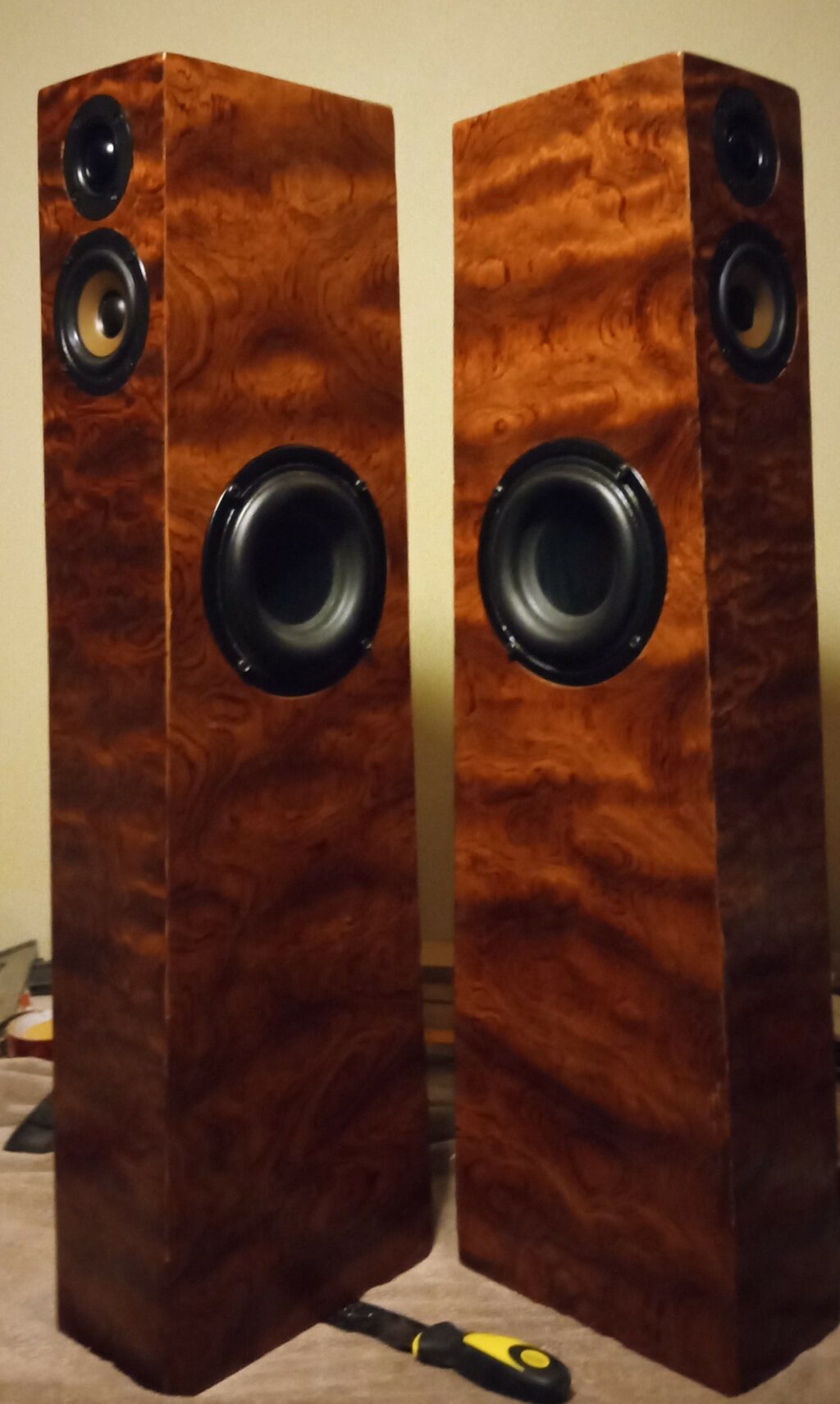 3-Way Small Tower Speakers
---
Designer:
Russell Griffin



Project Category:
Tower Speakers



Project Level:
Intermediate



Project Time:
20+ Hours



Project Cost:
Over $1,000
Project Description:
Small Tower Speakers


Design Goals:
To build a small pair of tower speakers that sound as close to the $8000.00 Boenicke W-8 speakers as possible.
Driver Selection:
Tang Band W5-1138SMF 5-1/4″ Paper Cone Subwoofer Speaker 
Tang Band W3-881SJF 3″ Full Range Speaker
Dayton Audio ND25FA-4 1″ Soft Dome Neodymium Tweeter
Enclosure Design:
30 1/4″ H X 4 3/4″ W 8.1/4 (top) 14 1/4″ ( bottom) Depth. Small Tower w/built in Mid to bottom Bass Port's
Crossover Design:
 3-way w/ (hot rodded) with bypass capacitors
Tips & Tricks:
 Hot rodding the capacitors for the crossover with Miflex (oil) 0.1uf foil Capacitors. For faster hitting and better sound.
Front and Rear Tweeters
Built in bottom bass port's do added box strength
Conclusion:
Amazing sounding and looking small tower speakers. These speaker's sound as good as any speakers I've heard in this size after managing a high end Electronics store for 30 years.

About the Designer:
Electronics manager for over 30 years.

Project Parts List:
| | | |
| --- | --- | --- |
| Part # | Description | Qty. |
| 264-917 | Tang Band W5-1138SMF 5-1/4″ Paper Cone Subwoofer Speaker | 2 |
| 264-911 | Tang Band W3-881SJF 3″ Full Range Speaker | 2 |
| 275-059 | Dayton Audio ND25FA-4 1″ Soft Dome Neodymium Tweeter | 2 |
| 255-626 | Jantzen Audio 0.82mH 16 AWG Copper Foil Inductor Crossover Coil | 2 |
| 255-504 | Jantzen Audio 0.22mH 16 AWG Copper Foil Wax Coil Crossover Coil | 2 |
| 255-954 | Jantzen Audio 10.00 Ohm 10 Watt Audio-Grade Superes Resistor | 2 |
| 255-951 | Jantzen Audio 6.20 Ohm 10 Watt Audio-Grade Superes Resistor | 2 |
| N/A | Claritycap Purity Capacitors | 2 |
| N/A | Miflex 0.1uf bi-pass copper foil capacitors | 2 |