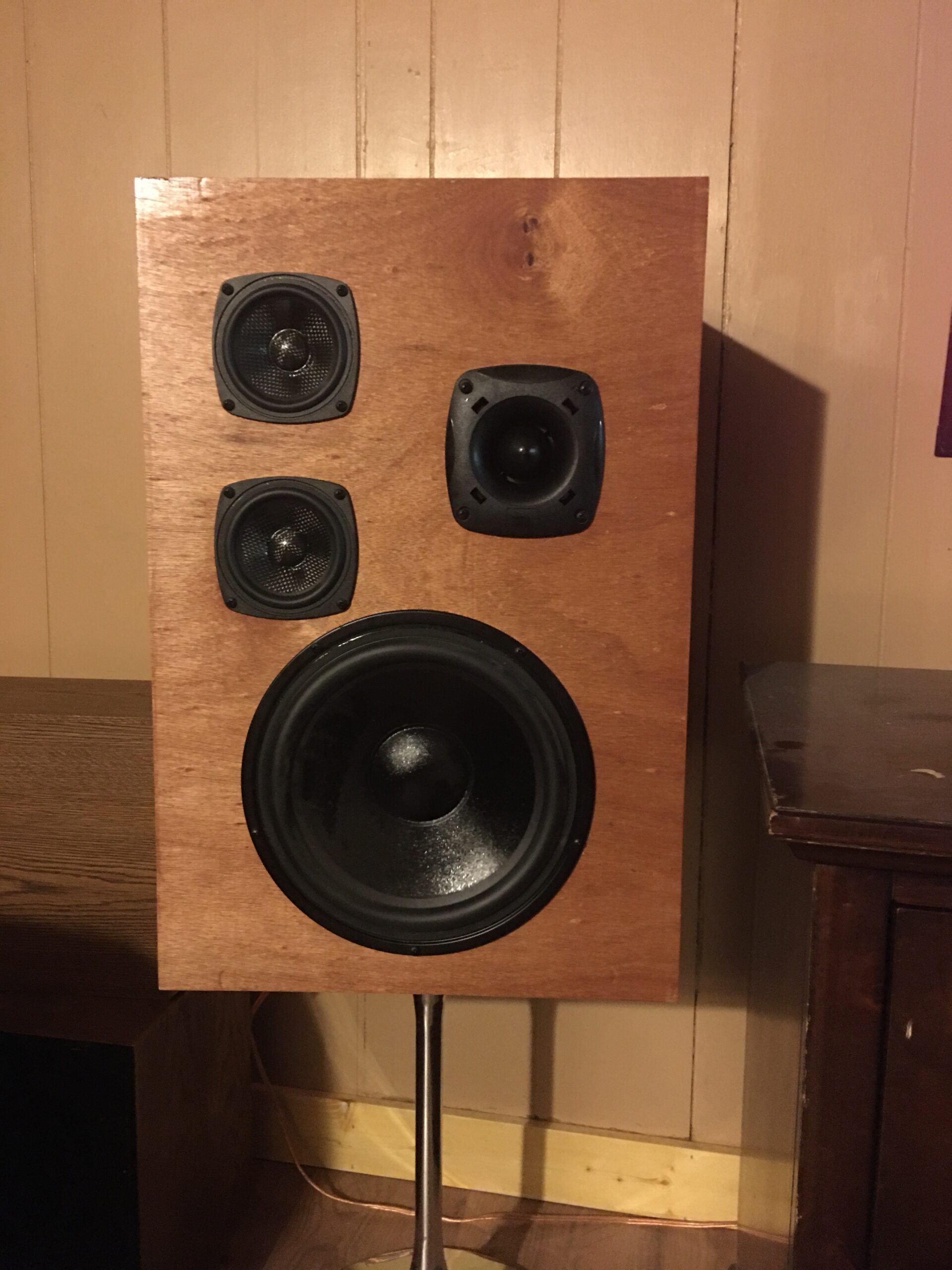 Classic
---
Designer:
Chuck



Project Category:
Tower Speakers



Project Level:
Intermediate



Project Time:
8-20 Hours



Project Cost:
$100-$500
Project Description:
10" 3/4way classic style home speakers.


Design Goals:
I wanted to build a pair of speakers that would work with all types of music and I did not want use a powered subwoofer.
Driver Selection:
I had bought 2 of the Dayton Audio DS270-8 10″ Designer Series Woofer Part #295-432 for another project and they preformed well in a two way. I then purchased Dayton Audio CF120-4 4-1/2″ Woven Carbon Fiber Midwoofer 4 Ohms Part #295-298 because first I liked how they looked I had never owed or listed to any carbon fiber cone speakers. They are close in sensitivity so to the woofer so I knew they should blend ok. I then selected Selenium ST200 Super Tweeter Part #264-348 I've had many speakers in my life and I've always liked the sound of horn tweeters lots of Klipsch speakers in the past. The tweeter has a much higher sensitivity so knew I would have to use a l- pad .
Enclosure Design:
First I was limited in the materials I had to use for a pair of enclosures. My design goal was to build a pair of speakers that made sure I would not need a powered subwoofer. Goal met for sure. I was given a single sheet of 10 cherrywood plywood from a friend. So I designed the cabinets around maximizing the material I had. The enclosure dimensions each ended up 16"wide x 24" tall x 12.75" deep. For a total 2.124 cu ft . Ported the enclosure with 2.75" x 4.75" . I figured they are tuned somewhere between 31hz- 36hz To isolate the midranges from the woofer I used some foam baffles leftover from car stereo installs . Worked great. I used a dual binding post terminal cup so I could have parallel output for another pair of speakers.
Crossover Design:
I cheated I bought my Crossovers. Bought some Vega E-310 crossovers. They have variable L-pad for the mid and tweeter. Which is nice feature. Woofer 700hz midrange 700hz-3500hz tweeter 4500hz
Tips & Tricks:
I glued carpet padding to the sides and walls till the speakers no longer sounded boomy. I run these with a Emotiva Pt-100 preamp Emotiva A-300 amplifier I use Behringer dual 31 band equalizer.
Conclusion:
These speakers are better than any off the shelf speakers I've ever had. No need for a powered subwoofer plenty of bass and good extension. The mids are crisp not harsh very detailed. The highs could have been extreme but the L-pad saved the day great detail.I had a pair of old Bose 901 tulip stands laying around and put the speakers on them which puts the sound stage right in your face. They will handle a lot of power. Probably more than I can feed them.
About the Designer:
I've been into audio equipment since I got my first Sears turntable back 1986 . I dug it out of the shed at 6 years old. I've bought sold traded gear. I got into car audio around 15 and around the same time I discovered pro audio gear. During that time I was traveling around with sister a musician. I love audio. I've worked as a carpenter and factory worker. I like pushing the limit in audio. Clean Clear and rock concrete loud capabilities.

Project Parts List:
| | | |
| --- | --- | --- |
| Part # | Description | Qty. |
| 264-348 | Selenium ST200 Super Tweeter | 2 |
| 260-304 | Gold Plated Bi-Amp Speaker Wire Terminal Cup Binding Post Banana Jack | 2 |
| 295-298 | Dayton Audio CF120-4 4-1/2″ Woven Carbon Fiber Midwoofer 4 Ohms | 4 |
| 295-432 | Dayton Audio DS270-8 10″ Designer Series Woofer Speaker | 2 |