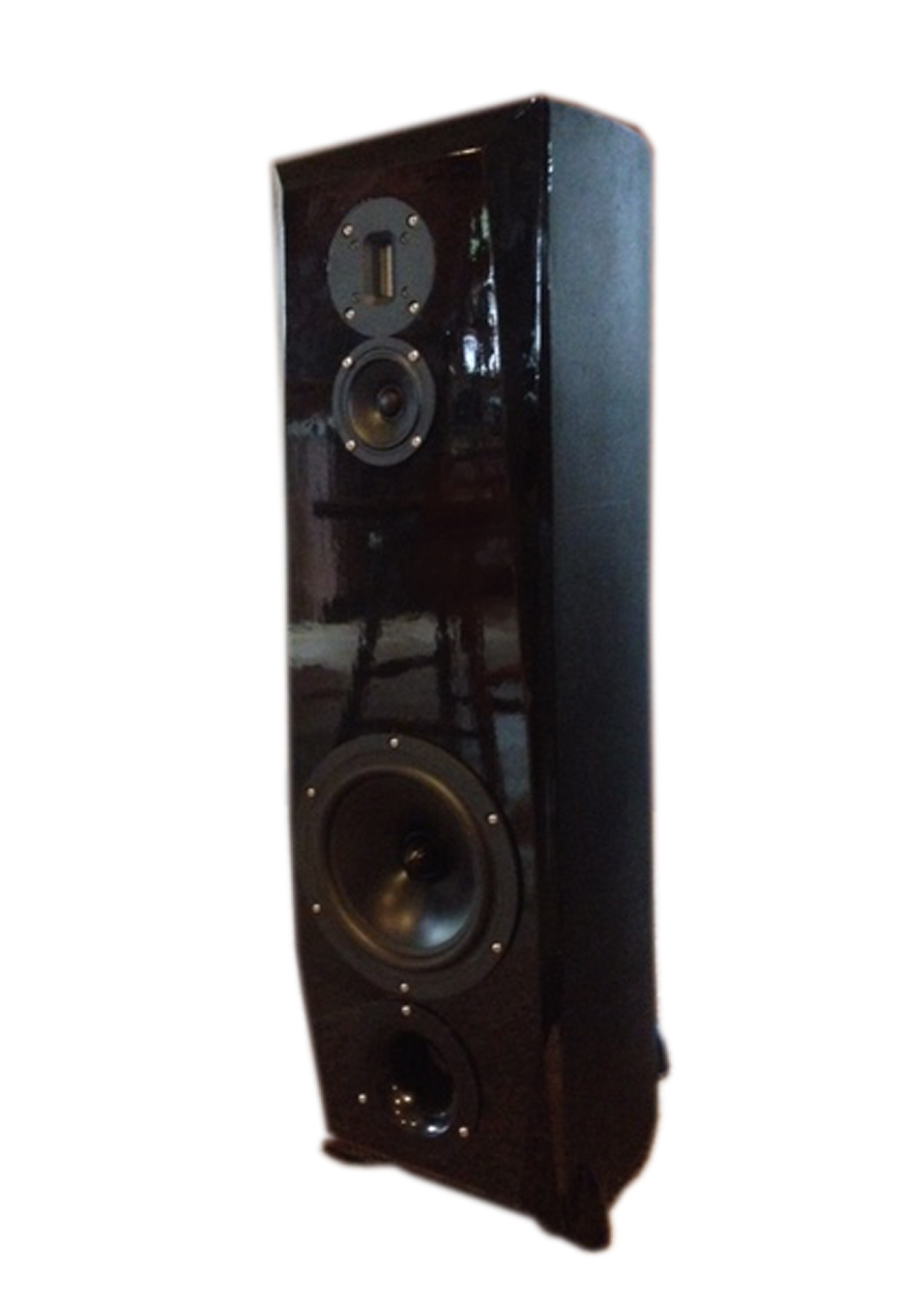 TranscenD
---
Designer:
dynamo
Project Category:
Tower Speakers
Project Level:
Intermediate
Project Time:
20+ Hours
Project Cost:
$500 – $1,000
Project Description:
A compact three-way floor-standing speaker featuring a ribbon tweeter, 4″ mid, and 8″ woofer in a vented enclosure.
Design Goals:
The goal was to design a compact and lightweight floor standing speaker with high resolution of detail and to be able to stand on it's own for music reproduction without absolute need a sub for two channel listening.
Driver Selection:
The tweeter is a Fountek neocd1.0 (296-701) and is very nicely priced for a true ribbon driver. It has an attractive aluminum face and is full of that ribbon goodness. The mid is a Scan Speak 10F/4424G and was chosen as one of extremely few drivers this small that can do what it does. The woofer is a Dayton Reference RS225-8 (295-356) and is truly a nice driver, priced at probably half of what it could be for what it delivers in quality.
Enclosure Design:
The enclosure is roughly 35L gross, with a faceted birch ply baffle and curved body. The body does not need to be curved so long as baffle dimensions are maintained. The mid is in it's own separate pvc enclosure. The crossover schematic provides further details.
Enclosure Assembly:
The enclosure consists of a highly cross-braced frame wrapped in hardboard (1/8″ Masonite) I used only two layers for weight, however more may be used for additional rigidity. The baffle was wrapped in gloss black VVivid vinyl. Photos and additional info on the build can be found in the Tech Talk project gallery here: http://techtalk.parts-express.com/forum/speaker-project-gallery/1285035-transcend
Crossover Design:
The crossover employs third order electrical filters throughout. The crossover points are 400 and 5khz. The filter orders were not sought out, but were what worked out for phase alignment and system impedance. The higher order filters do help heep the aluminum woofer resonance low, and help keep the mid and ribbon clean. The pic of the crossovers were prior to some minor changes, but everything is the same aside from a few resistors.
Tips & Tricks:
The downside to a revealing speaker is tht they are not kind to bad recordings. For this reason I voiced them a little warm which takes away a little ribbon goodness, but allows for better listenability on streaming audio and downloaded music. If you listened to high quality tracks more often, simply increase the resistance of the resistor in parallel with the tweeter a little.
Conclusion:
I am happy with them, they are a revealing speaker, which is good, and exactly what I wanted.
About the Designer:
Been tinkering with speakers most of my life, learning more every day. I learned a ton on the Tech Talk forum where there is a wealth of knowledge and resources and am very thankful for the help I have gotten from the members there.
Project Parts List
Scan Speak 10F/4424G
All crossover component values available at PE