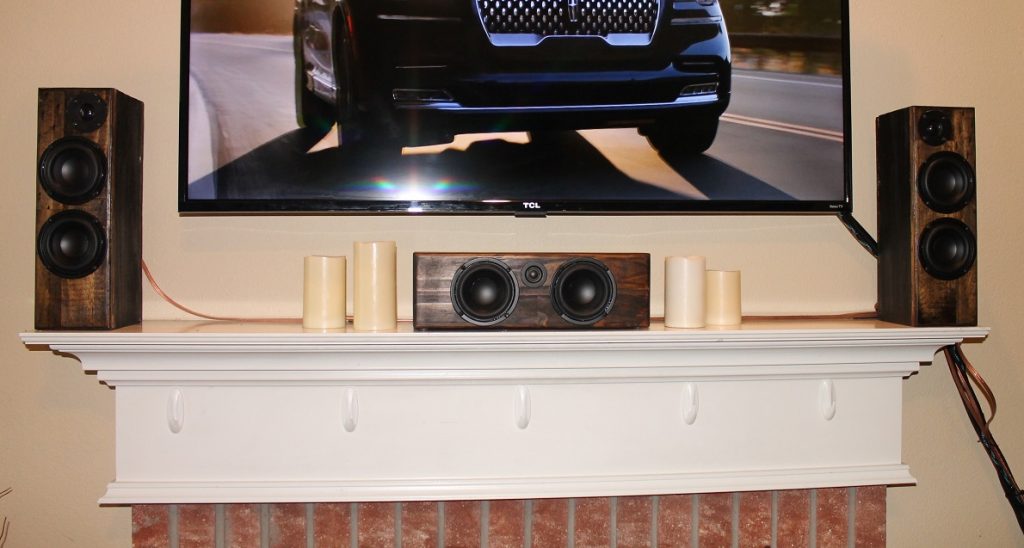 Transformer Soundbar
---
Designer:
Chris Hintz
Project Category:
Bookshelf Speakers
Project Level:
Beginner
Project Time:
8-20 Hours
Project Cost:
$100 – $500
Project Description:
This is a 3 piece soundbar. I call it the transformer as it can be pushed together as a continuous piece or separated as you like.
Design Goals:
This a soundbar I made to surpass what has been available in the market. I wanted something that would sit on the fireplace mantle underneath my flatscreen television. Yes, it is a little bit bigger than your traditional one piece soundbar however, it sounds so much better. I call it the transformer as it is really 3 pieces. You can place all 3 pieces together in the form of a traditional soundbar or separate them as you like.
Driver Selection:
Dayton Audio TCP115-8 x 6
Dayton Audio TD20F-4 x 2
Dayton Audio ND20FA-6
Enclosure Design:
All 3 enclosures are identical in size. They measure externally 16 inches wide x 5 inches tall x 6.5 inches deep. The cabinets are sealed.
Crossover Design:
The center channel has a different tweeter so that crossover is a bit different for the center than for the left and right channels. However, each have 7 components. See attached pictures.
Tips & Tricks:
Make sure you have your positive and negative hooked up correctly.
Conclusion:
I am very happy with this. I had a Canton Soundbar prior to this. While it was very slick and minimalistic and frankly, did some quite nice, this certainly sounds better. And can you believe 1 of those costs $650.
About the Designer:
I am an orthopedic physician assistant in San Antonio.
Project Parts List:
| | | |
| --- | --- | --- |
| Part # | Description | Qty |
| 275-020 | Dayton Audio TD20F-4 3/4″ Soft Dome Neodymium Tweeter 4 Ohm | 1 |
| 295-416 | Dayton Audio TCP115-8 4″ Treated Paper Cone Midbass Woofer 8 Ohm | 1 |
| 257-034 | Dayton Audio 0.45mH 20 AWG Air Core Inductor Crossover Coil | 1 |
| 257-024 | Dayton Audio 0.20mH 20 AWG Air Core Inductor Crossover Coil | 1 |
| 027-332 | 4.7uF 100V Electrolytic Non-Polarized Crossover Capacitor | 1 |
| 027-342 | 12uF 100V Electrolytic Non-Polarized Crossover Capacitor | 1 |
| 027-330 | 4.0uF 100V Electrolytic Non-Polarized Crossover Capacitor | 1 |
| 004-1.5 | Dayton Audio DNR-1.5 1.5 Ohm 10W Precision Audio Grade Resistor | 1 |
| 004-10 | Dayton Audio DNR-10 10 Ohm 10W Precision Audio Grade Resistor | 1 |