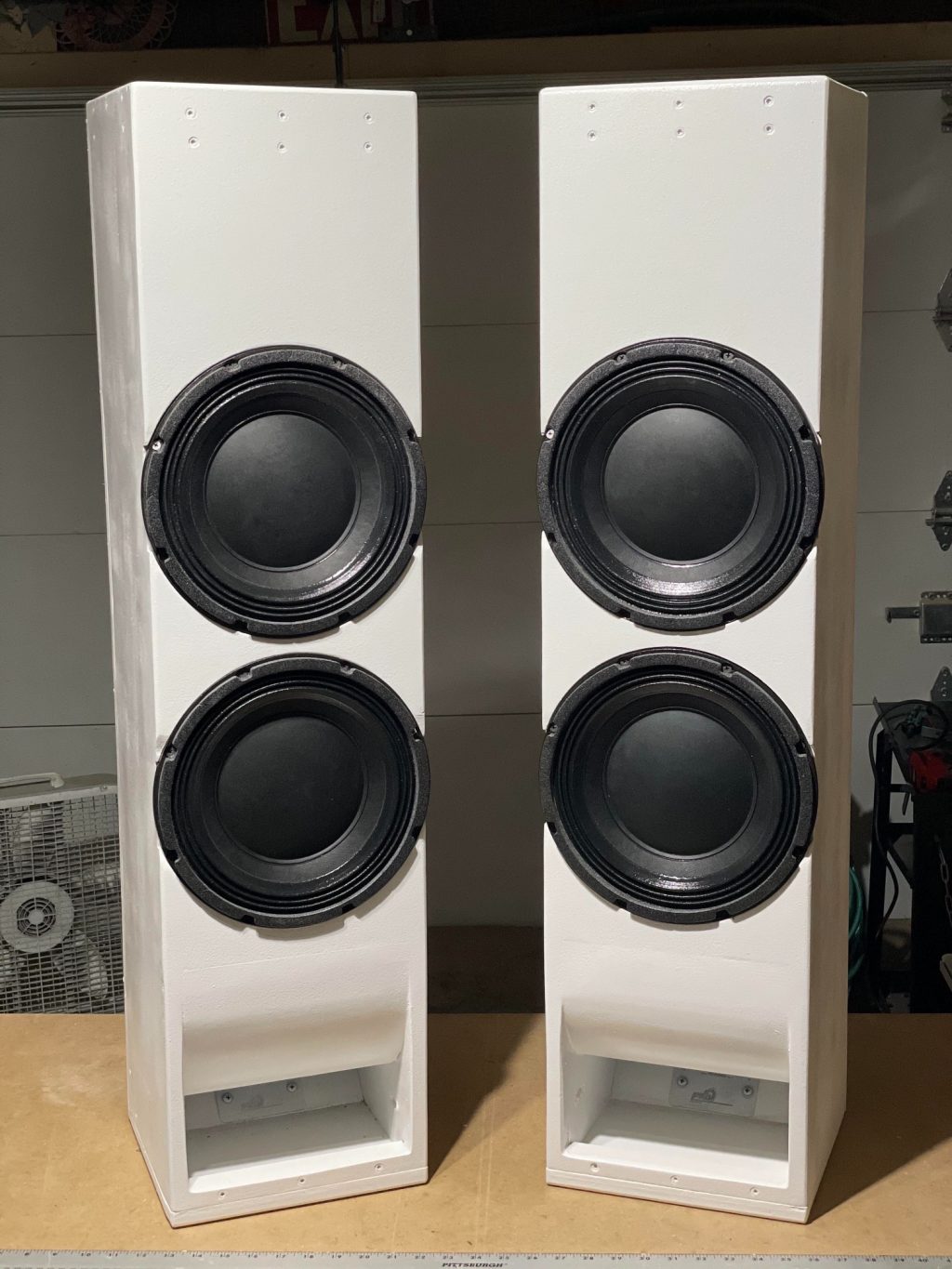 Truss Subs
---
Designer:
Darin Zunski
Project Category:
Loudspeakers/Cabinets
Project Level:
Intermediate
Project Time:
8-20 Hours
Project Cost:
$500 – $1,000
Project Description:
These subwoofer loudspeakers shall utilize two 10″ high excursion transducers in a vented reflex loaded enclosure. This subwoofer shall have an operation range of 36Hz-300Hz with a sensitivity of 97.4dBSPL. Continuous output of 126dBSPL @98Hz, Peak 130.5dBSPL @98Hz. Power handling shall be 1,200w continuous, 2,400w program. The impedance shall be nominal 4 ohm.
Design Goals:
Build a pair of compact high SPL subwoofers to complement a set of full range tops housed in a portable DJ Truss system. The Enclosure had to fit in a 10″x10″ foot print and be no taller than 42″ all while maintaining a low box F3 along with a high sensitivity and transient response you could feel.
Driver Selection:
Eminence Kappa Pro-10LF 10″
Enclosure Design:
A reflex ported design was used with 1.6ft3 per box with a port tuning of 58hz and box F3 of 55hz. The port was kerfed and curved to reduce vent air velocity at high levels and smooth the overall response.
Enclosure Assembly:
The enclosures were constructed of 3/4″ multiply maple. A 1″ baffle was used along with heavy corner/cross bracing and fiberglass reinforcement to ensure a strong enclosure with no vibration or unwanted resonance. The kerfing technique was utilized to curve the port in two places (1.75″radius innercurve, 3″radius exit curve) for smoother impedance matching from the enclosure vent to the air.
Crossover Design:
Amplifier DSP shall be used for crossover and limiting.
36hz 24db/Oct HPF and 100hz 24db/Oct LPF
Conclusion:
Overall the boxes had a flat response down to 40hz with punchy low subwoofer characteristics. With the drivers high power handling and sensitivity, high SPL will be achievable in small to medium sized venues. The solid construction will ensure these enclosures hold up during transporting and handling.
About the Designer:
With a background in live production and installation of audio equipment, I was exposed to some of the highest level of loudspeaker cabinets in the industry. After working with some models such as Danley Soundlabs Basshorns and Synergy horns I was very much inspired by what can be done via a wood speaker enclosure. This led me to a passion for fabrication and design of custom loudspeakers for mobile and live applications. Currently located in Central NewJersey we can be contacted for custom loudspeaker enclosures.
Project Parts List:
| | | |
| --- | --- | --- |
| Part # | Description | Qty |
| 290-425 | Eminence Kappa Pro-10LF 10″ Professional Subwoofer 8 Ohm | 4 |
| 092-054 | Neutrik NL4MPR speakON Connector 4 Pole Round Chassis Mount | 2 |