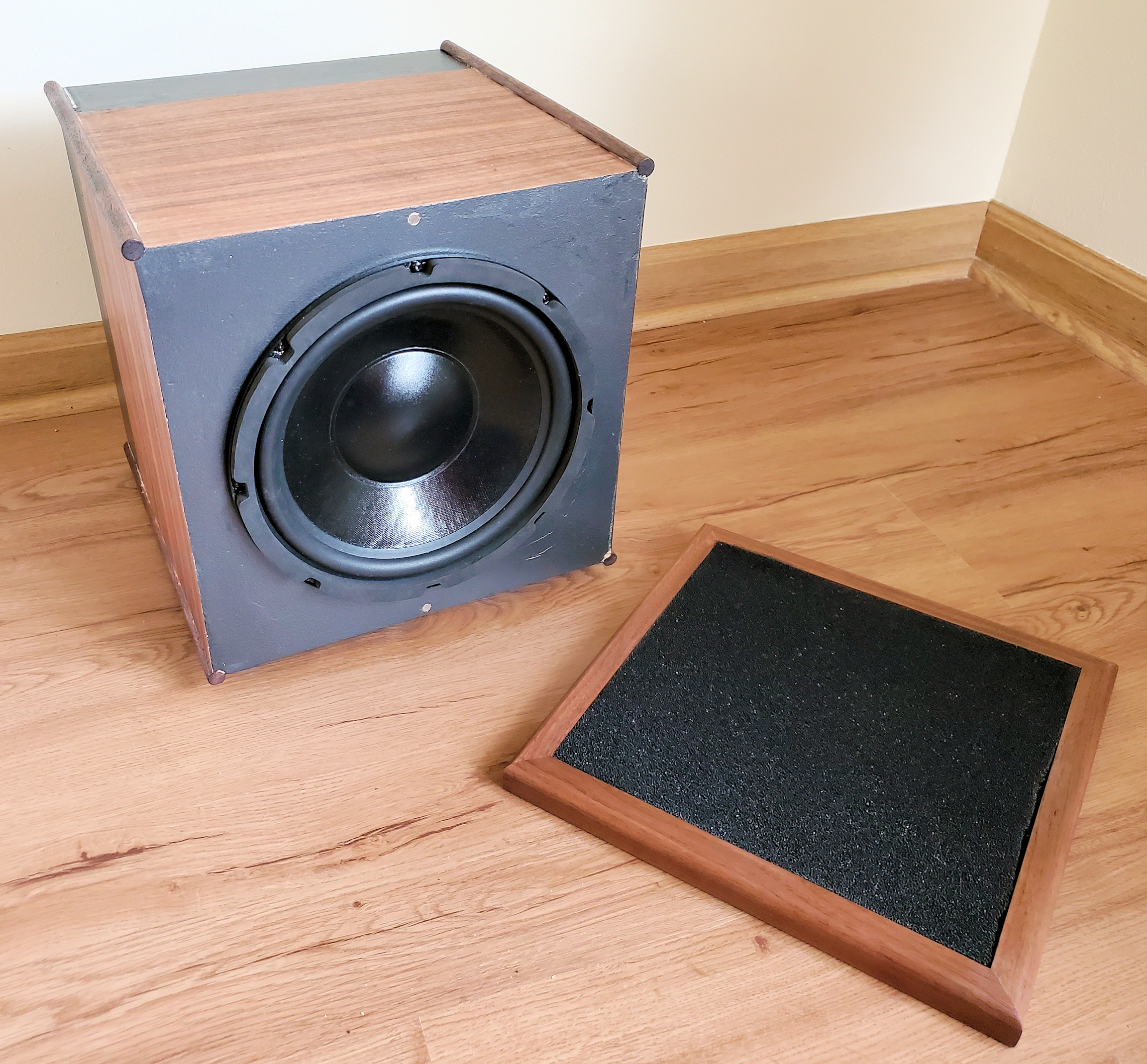 Vernon Ten
---
Designer: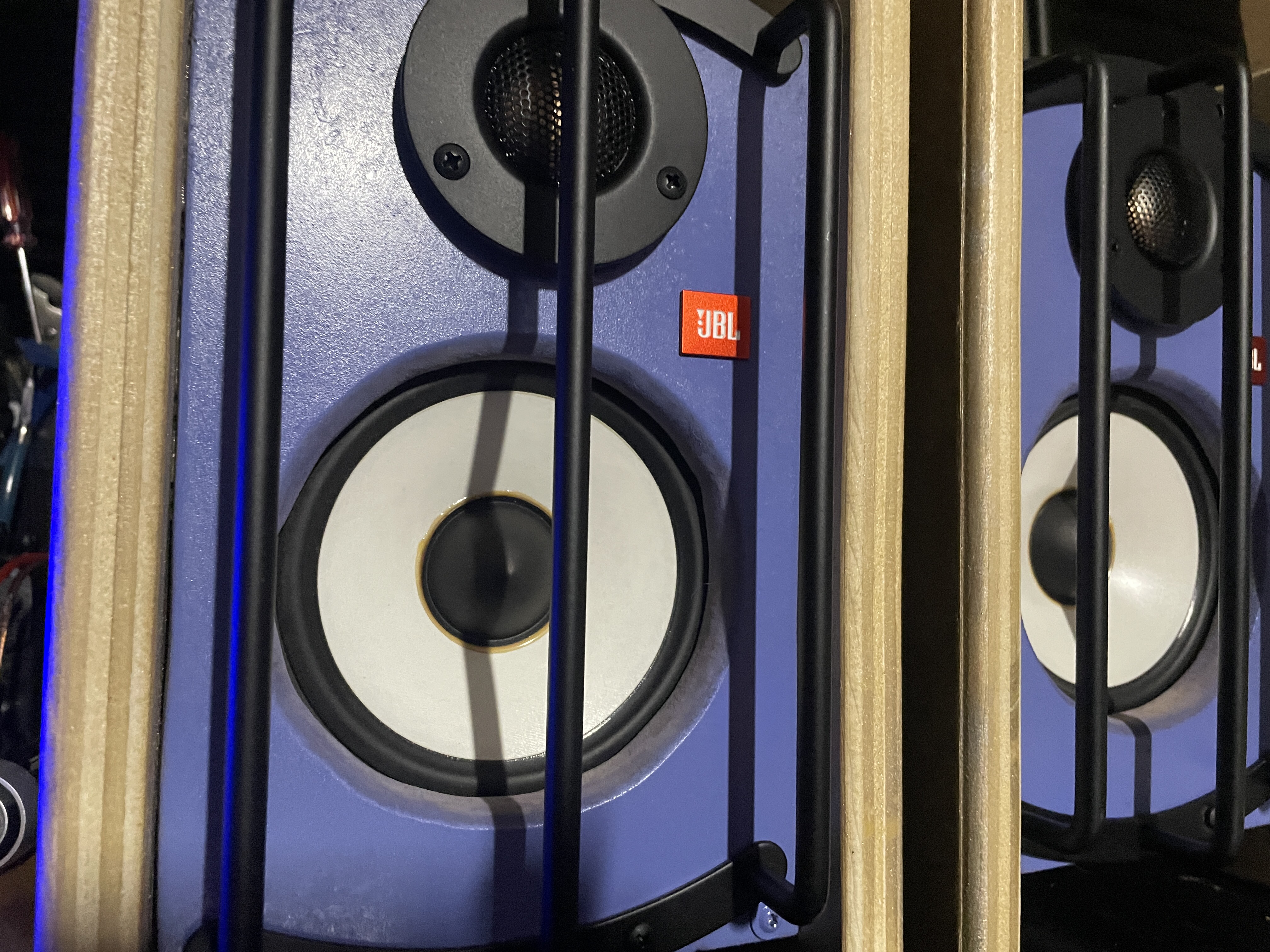 Steve L



Project Category:
Subwoofer



Project Level:
Intermediate



Project Time:
20+ Hours



Project Cost:
$100-$500
Project Description:
Sealed powered sub for home use (mostly music)


Design Goals:
 
Sonically and visually complement my 1980s-vintage Boston Acoustics HD7 main speakers
Driver Selection:
Dayton Audio DCS255-4 10″ Classic Subwoofer 4 Ohm
Enclosure Design:
Simple 0.63 cu.ft. sealed speaker chamber partitioned off from the 100-watt class D panel amp. The basic box consists of 3/4″ MDF panels assembled with wood glue and simple butt joints. Exposed MDF edges were coated with spackle and sanded smooth, then the box was primed with oil-based primer and painted with black hammered-texture spray paint. I applied walnut veneer to the top and sides with 1/2″ walnut dowels as decorative accents. The mitered grille frame is also walnut. I finished the wood with sanded-in tung oil/varnish mixture. I used a minimal amount of Acousta-stuf polyfill fluffed out and attached to the inside back panel with spray adhesive. Three cheap but sturdy rubber feet from Amazon are bolted to the bottom. Finally, I used automotive RTV silicone where the speaker wire passes through the box, and around the speaker flange, to guarantee an air-tight space.
Crossover Design:
N/A
Tips & Tricks:
I replaced the spring-loaded speaker terminals on the DCS255-4 with M4 screws and nuts for a more reliable (I hope) long-term connection. And the black foam grille enhances the retro look.
Conclusion:
Never having built any kind of speaker before, I had no idea whether this would even work. To my surprise, the darn thing produces tight, natural-sounding bass. So far, everything I've thrown at it, from pop to rock to jazz, sounds excellent.
About the Designer:
Amateur woodworker and music lover with a shoestring budget

Project Parts List:
| | | |
| --- | --- | --- |
| Part # | Description | Qty. |
| 295-202 | Dayton Audio DCS255-4 10″ Classic Subwoofer 4 Ohm | 1 |
| 300-805 | Dayton Audio SPA100-D 100 Watt Class-D Subwoofer Plate Amplifier | 1 |
| 260-317 | Acousta-Stuf Polyfill 1 lb. Bag Speaker Cabinet Sound Damping Material | 1 |
| 260-519 | Parts Express Speaker Cabinet Grill Foam 19″ Wide x 31″ Long x 3/8″ Thick Black | 1 |