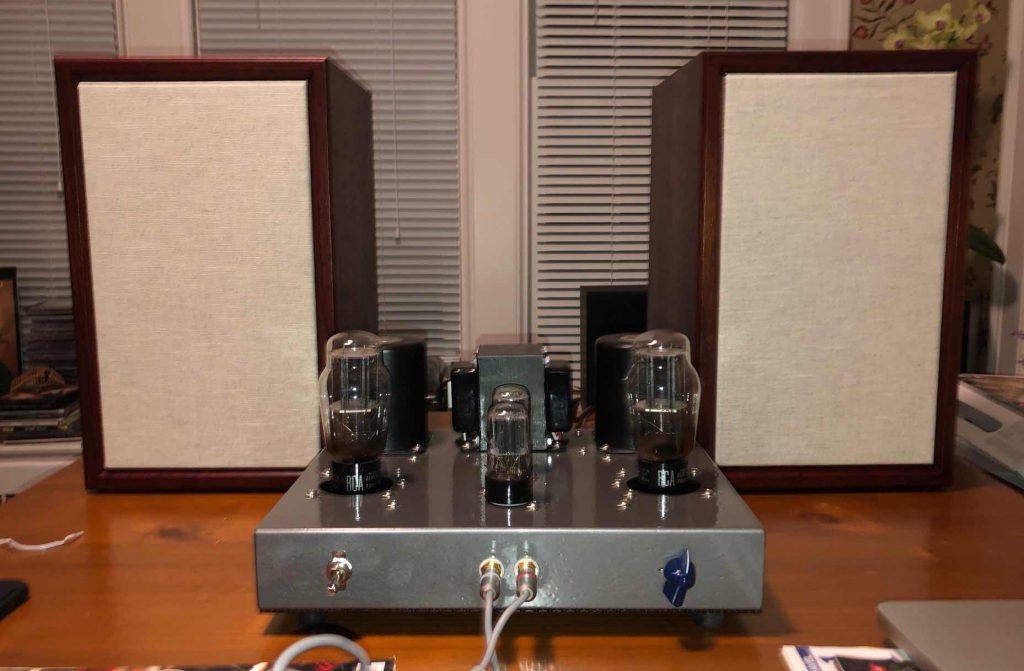 Very Efficient Bookshelf
---
Designer:
John T.
Project Category:
Bookshelf Speakers
Project Level:
Intermediate
Project Time:
20+ Hours
Project Cost:
$100 – $500
Project Description:
Very efficient bookshelf capable of filling a moderate sized room with big sound, even when driven by a low powered tube amplifier.
Design Goals:
I wanted a very efficient bookshelf sized speaker that could be driven by a small 6B4G based SET tube amp that I built, that puts out about 3.5 Watts/ch.
Preferred drivers that could run full range without a crossover, and wanted them to have a large open stage presence.
Decided to run two 16ohm drivers in parallel to gain an extra 6dB of SPL and would use rear mounted "ambience tweeters" to supplement the highs of the full range drivers while also adding openness to the soundstage. Any combing effect would be avoided by the time delay of the rear tweeters and therefore no complicated crossover would be needed.
Driver Selection:
FaitalPRO 4FE32 4″ 16 ohm drivers were chosen because of their good reputation and flat response and because of their efficiency (91dB). Run parallel these would present an 8ohm load and have an SPL of 97dB.
Enclosure Design:
Online calculators gave me an F3 of about 59Hz with a 0.5ft3 ported cabinet tuned to 69 Hz.
Enclosure Assembly:
Enclosure was built using Baltic birch Plywood and was heavily crossed braced. Sides were Baltic Birch laminated with MDF. Sides are 1″ thick, top and front/back 3/4″. During construction I expanded the size of the cab and ended up with a chamber at the bottom that wasn't planned. Filled this with fiberglass and covered everything else with 3/8th" felt. Finished it off with Walnut veneer with solid Walnut front grill trim. I used AR style vintage grill fabric for a vintage look.
Crossover Design:
No crossover. Just a 6,000 Hz high pass filter for the Eminence Tweeter. The time delay of a rear tweeter prevents any combing effect and allows the 4″ driver to run full range.
Tips & Tricks:
Running these about 10″ from the rear wall and sounds balance with the L-pad all the way open. I may substitute a more efficient rear tweeter at a later date as this will offer more flexibility in room placement.
Conclusion:
Thought they might be good but wasn't expecting too much, as this was only my second serious effort. Was sort of blown away, they blew some small Polk Bookshelfs driven by a 35Watt/ch amp, out of the water. Don't yet have the test equipment to offer results supported by numbers, but to my ears they certainly met my goals. Voice and instruments were right in the room with me, and I was hearing things I hadn't head before. Stan Getz's sax and Gilberto's voice on girl from Ipanema were very clear and wonderfully present, Bach Cello Suites, Holly Coles Voice, Cal Tjader xylophone all wonderful.
Please take the above with the consideration that I am it's Father.
About the Designer:
Nearly retired physician and on the home stretch and looking forward to finishing my too many project, especially need to get my 59 MGA back on the road. Interested in HiFi ever since my college days in the late 70s. No earbuds for me!
Project Parts List:
| | | |
| --- | --- | --- |
| Part # | Description | Qty |
| 294-1122 | FaitalPRO 4FE32 4″ Neodymium Professional Full-Range Woofer 16 Ohm | 1 |
| 290-533 | Eminence APT:30 1″ High-Performance Super Tweeter | 1 |
| 260-1954 | Dayton Audio 6k-HPF-8 High Pass Speaker Crossover 6,000 Hz 12 dB/Octave | 1 |
| 260-252 | Speaker L-Pad Attenuator 50W Mono 3/8″ Shaft 8 Ohm | 1 |