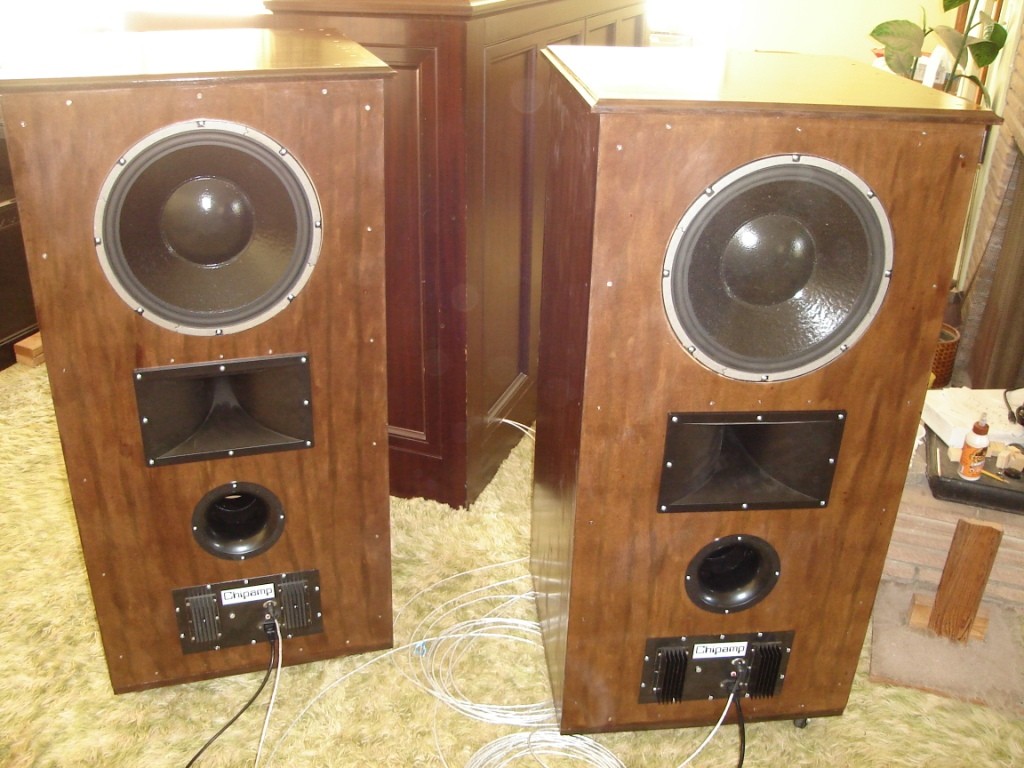 Virtual Pipe Organ Sound System
---
Designer:
Scott Reaser
Project Category:
Loudspeakers/Cabinets
Project Level:
Intermediate
Project Time:
20+ Hours
Project Cost:
$500 – $1,000
Project Description:
Sound system for Hauptwerk Virtual Pipe Organ conversion of Wicks Opus 6028 1985 Console. Twin ported tone cabinets with electronic crossover and plate amps.
Design Goals:
Covers 16Hz to 18Kz capturing the shake of pedal pipes and bark of horizontal trumpets.
Driver Selection:
This is a biamped system. Woofers are Dayton Series II ST 385-8 (15 inch) #295-130. H.F. drivers are Pyle Pro Audio PDB512 bolt on units #292-2546. Exponential horns are Dayton H812 #270-304.
Enclosure Design:
Ported tone cabinets are resonated at 16.3 Hz with 4 inch Precision Flared Ports #268-352
Enclosure Assembly:
Enclosures are made from 6 pieces each of 2 x 4 x 3/4 MDF. Front and back are full size pieces. Sides are trimmed 3 inches in depth. The bottom matches size of vertical parts. The top has a 3/4 inch overhand, and is cove-routed to match console trim pattern. Battens are 1 x 2 inch (nominal) stock.
Crossover Design:
This is a 4 channel system using Linkwitz-Riley 4th order crossover set at 1 Khz. Audio kits EC-24. Tone cabinet plate amps are dual mono amp LM-3886 kits from Chipamp. Torroid power transformers are Avel Y236652 250VA units #122-625.
Sound is generated from the custom computer units hosting Hauptwerk with a M-Audio 2496 low latency stereo sound card.
Tips & Tricks:
MDF finishes to look like hardwood by first doing dry brush streaks with a dark oil stain (MinWax Dark Walnut 2716). This is followed by an overall coat of MinWax Red Walnut 225. Final appearance comes from 3 coats of MinWax water based gloss urethane varnish.
Conclusion:
The tone cabinets capture the presence and tonal range of a pipe organ as envisioned.
About the Designer:
Retired Skunk Works aerodynamics engineer.
Project Parts List: