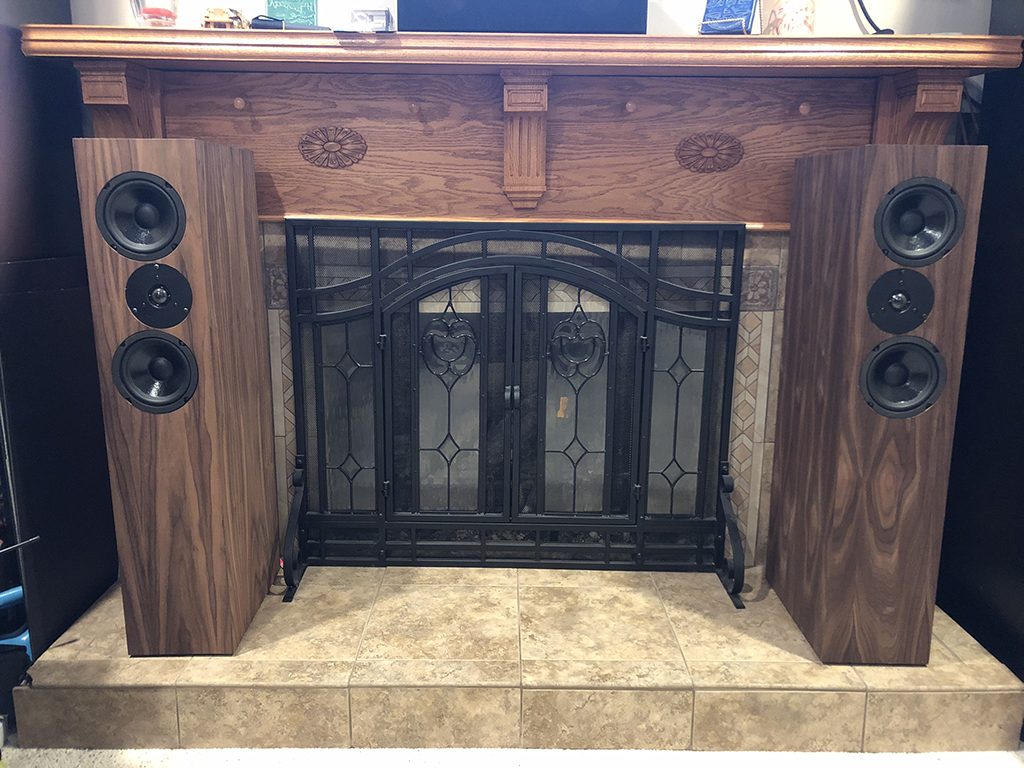 Walnut Delight
---
Designer:
Turnbachinator
Project Category:
Tower Speakers
Project Level:
Intermediate
Project Time:
8-20 Hours
Project Cost:
$100 – $500
Project Description:
Tritrix TL Home Theater Upgrade. Walnut veneer, Danish oil ,natural finish.
Design Goals:
Smallish room, needed upgrade for mid range tones. Natural walnut,hand rubbed low gloss finish. Paired with a previous 5" subwoofer build. All part of a general home theater upgrade. Did not want to use a sound bar.
Enclosure Design:
Tritrix TL kit.
Enclosure Assembly:
Upgraded to SPAX 1 1/2" MDF screws for enclosure. Heavy duty velcro for crossover installation. Holes filled with Bondo.
Crossover Design:
Standard crossover design. Used small crossover boards purchased form Parts Express. Tie wrapped, hot glued components to board. High strength velcro at the outlet of the transmission line for serviceability is needed later on.
Tips & Tricks:
One of the biggest things was to use the SPAX screws. They simply worked better with less can out, and pulled together things better than the supplied screws.
Carefully labeling the interior wires was a plus as I tested them, then disassembled for veneering. Hot gluing the wires was a big plus too as my hands are pretty big and getting my hands through the holes was nearly impossible.
The PE walnut veneer was easy to work with. Used a flush trim router, finishing up with the face veneer last. Watco natural finish was plenty dark enough.
I did use sorbothane 50 durometer self adhesive feet as it will be laced on a hard tile floor.
Conclusion:
Came out way better than expected. The sound, especially the midrange is so clear. My Yamaha receiver is tuned to >80Hz with the lower frequencies pushed to the 15" DP, sub. They are the perfect size for my 12' x 20' room. They blow away by $400.00 bookshelf speakers.
About the Designer:
Second project using PE kit. Pragmatic inventory in the chemical industry. Enjoyed using those physics classes researching the crossover components and their function.
Project Parts List: