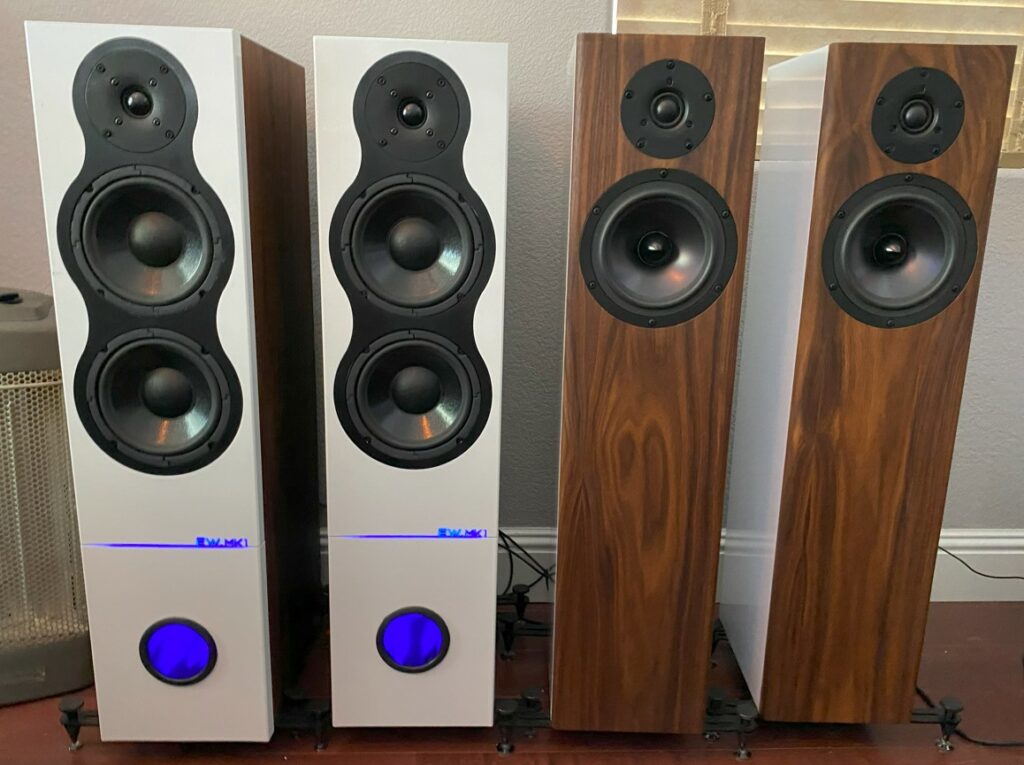 EW.MkI/Classix 2.5
---
Designer: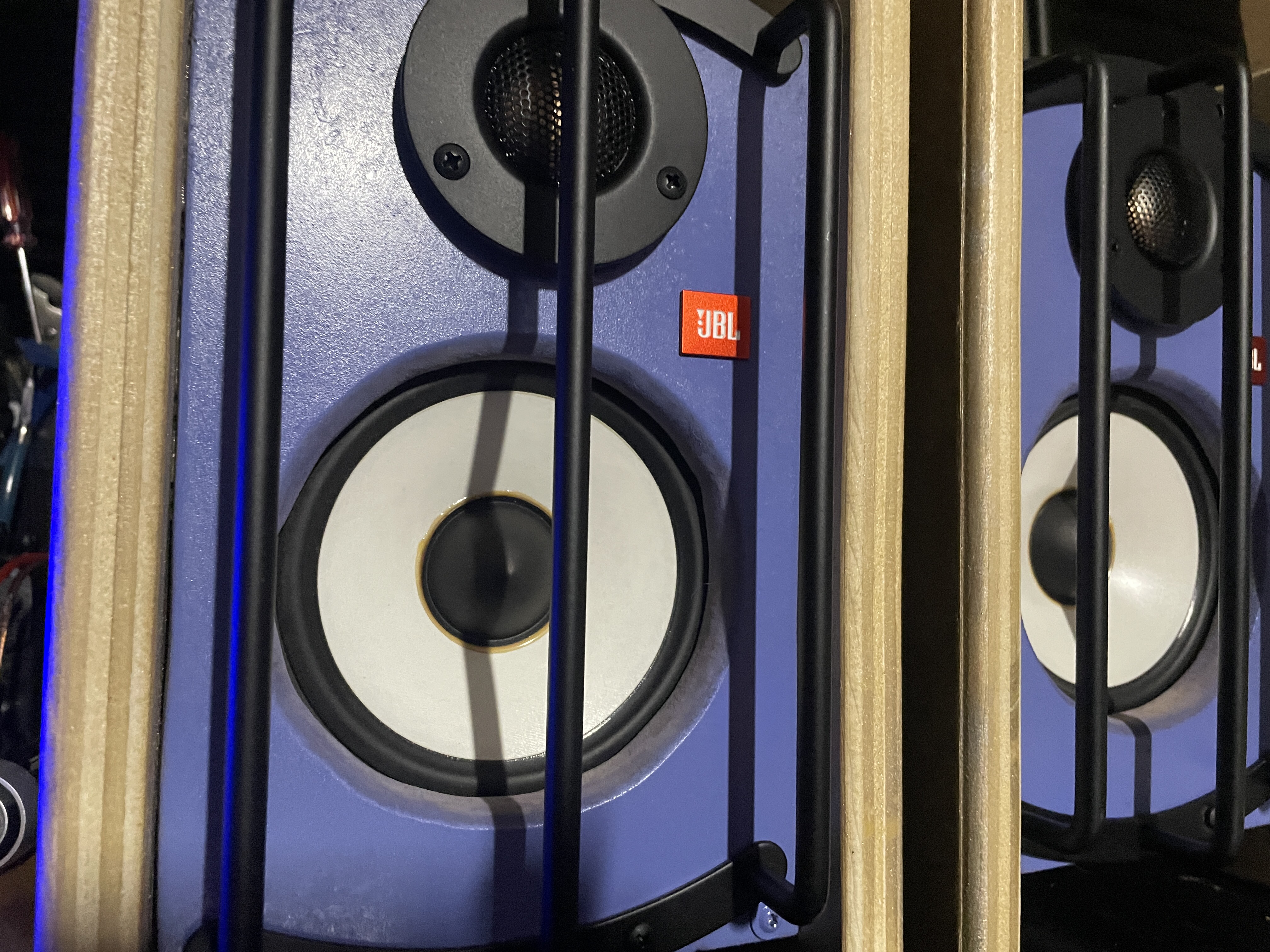 Emmet Welch

Project Category:
Tower Speakers

Project Level

Beginner
Project Time:
8-20 Hours

Project Cost:
$100-$500
Project Description:
This is a variation on Paul Carmoudy's Classix 2.5, testing some finish methods using laser cut, powder coated/anodized aluminum sheet metal as simply ways for a builder of any skill to achieve factory-like finish quality, and that could be incorporated into a kit.


Design Goals:
 
Focus of design was on finishing options, not the speaker itself. I liked Pauls Classix 2.5 philosophy and resulting sound as being a speaker that could please most, bringing much of what we seek in moving into the audiophile realm, but wanted to not leave the finish quality out of that pursuit. So other than upgrading cross over components (design unchanged), the "design" was really in the modern 3rd party laser cutting services – incorporating precision bending and surface finish) to achieve a final finish that rivals any of the factory speakers I have owned (which having sold high end Audio for several years, was fully achieved)
Driver Selection:
Dayton Audio DC160-8 6-1/2″ Classic Woofer
Peerless by Tymphany BC25TG15-04 1″ Silk Dome Tweeter
Enclosure Design
I utilized an existing enclosure from a pair of Paradigm 7SE-MkIII 2.5 speakers. The cabinet physical dimensions were very close to the Classix 2.5/Amiga, albeit with a slightly larger volume (1.16 vs. 1.6). The cabinet is 0.75″ MDF, as spec'd by Paul. I kept the port area to match the larger volume cabinet vs. the original Classix design.
Crossover Design:
Exactly as Paul designed, but with upgrades using Audyn Caps and Mills resistors. Inductors were as spec'd.
Tips & Tricks:
Other than the finishing methods described, I used panel mount USP ports to allow the power supplies for the LED lights to be external and disconnected. The lights are mounternally using just a few dabs of hot glue so they can be changed/replaced by just removing the lower woofer. I also utilized G10-FR4 epoxy plate for the crossover boards, covered with carbon fiber veneer. I marked the holes for mounting/wire running, to allow soldering on the back side and very clean, modern look. The crossover boards were mounted to the rear panel of the speaker, utilizing threaded anodized aluminum stand off's and M3 cap head screws epoxied into the MDF. Again, very simple methods without any real fabrication skills required.
Conclusion:
This was an attempt to utilized modern materials and methods available to the DIY'er to achieve finish results that historically may have been out of reach or only possible by factory capabilities. The result is a speaker that is visually stunning, factory fit and finish, and required no special fabrication or finishing skills. In fact it required no real finishing skills at all, special or otherwise. For the sound, its a Classix 2.5 and it has dropped jaws of most all who have listened – Bass extension is deep, with visceral punch up higher, its exceptionally pleasing in mid-range, and while not having quite the instrument separation and detail of the Amigas or my GR Research XLS Encores, they bring detail out of the music that make them a great entry into audiophile DIY, and provide an eye-opening, deep soundstage and adequate image (likely better if I fix some issue with my room) that is apparent to those who have heard them – novice and audiophile alike. And they do ROCK, just as Paul intended.
About the Designer:
I am a biochemist in education, leading global R&D and product development teams in the life sciences industry by profession. I am a pilot, building and flying bush/back country aircraft as a hobby. A music lover from before I can remember, and always having to have great equipment in my car (much of which I did myself), I was bit by the audiophile addiction while selling high end audio (Coda, Martnin Logan, Wadia, Vanderstien Counterpoint, etc) at Audio Ecstasy while in college at Cal Poly San Luis Obispo. This project has pulled on all of my experiences across my life and career, and was extremely rewarding – both the process, and the final result. Nearly every one of my friends and neighbors who has a home theater or stereo wants a pair. I have refused to make them…only offer to help build a set to show people how rewarding – and now easy – building your own "factory perfect" speaker can be!

Project Parts List:
| | | |
| --- | --- | --- |
| Part # | Description | Qty. |
| 295-305 | Dayton Audio DC160-8 6-1/2″ Classic Woofer | 4 |
|  264-1040 | Peerless by Tymphany BC25TG15-04 1″ Silk Dome Tweeter | 2 |
| 027-125 | Audyn Cap Q4 100uF 400V MKP Metalized Polypropylene Foil Crossover Capacitor | 2 |
| 027-137 | Audyn Cap Plus 4.7uF 800V Double Layer MKP Metalized Polypropylene Foil Crossover Capacitor | 2 |
| 005-6 | Mills 6 Ohm 12W Non-Inductive Resistor | 2 |
| 005-10 | Mills 10 Ohm 12W Non-Inductive Resistor | 2 |
| 005-20 | Mills 20 Ohm 12W Non-Inductive Resistor | 2 |
| 027-246 | Dayton Audio PMPC-12 12uF 250V Precision Audio Capacitor | 2 |