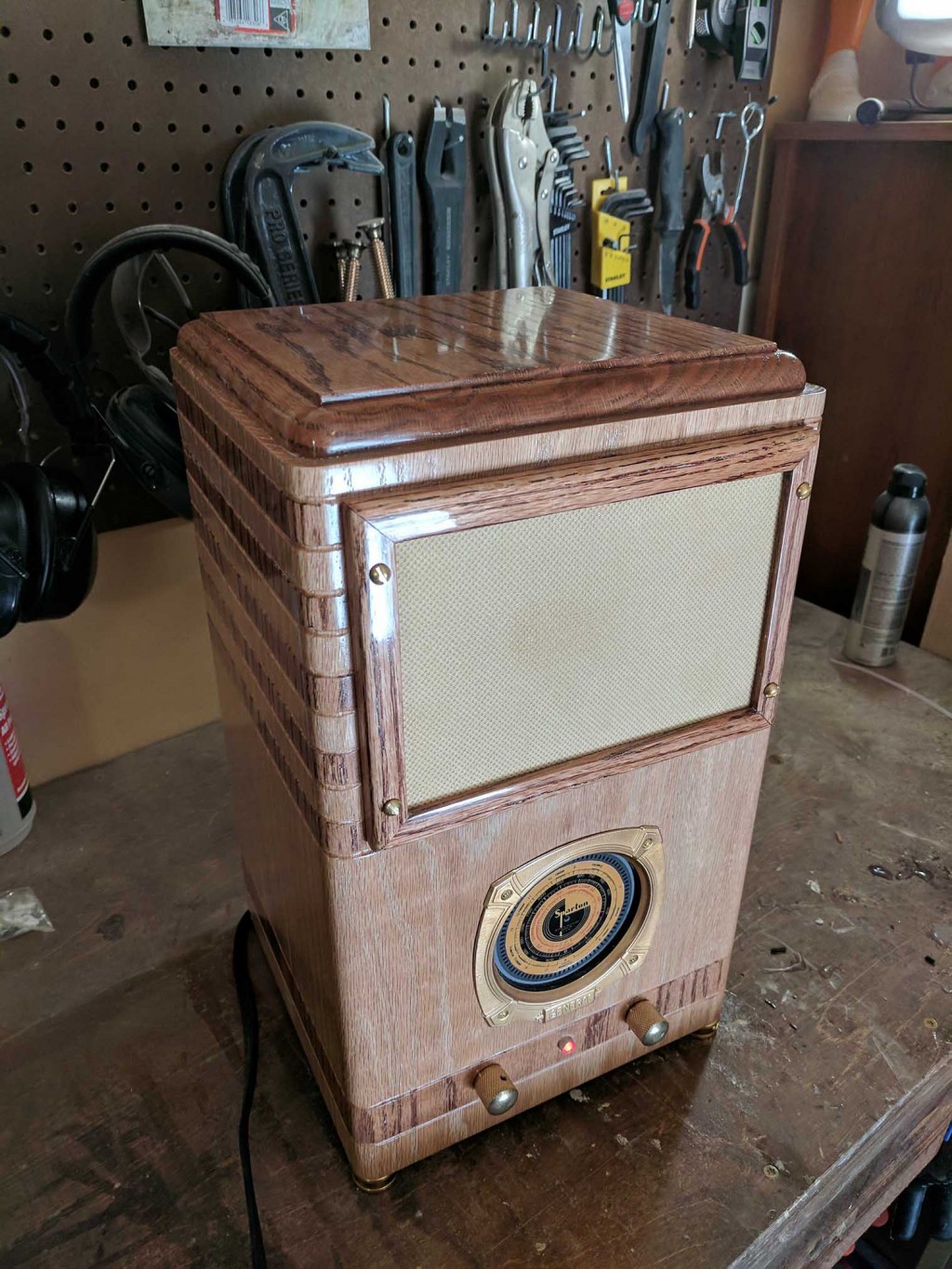 Retro Radio
---
Designer:
Warren Peace
Project Category:
Bookshelf Speakers
Project Level:
Beginner
Project Time:
8-20 Hours
Project Cost:
$100 – $500
Project Description:
This is my take on an antique radio using a Dayton KAB-230 amplifier board, an Echo Dot and Overnight Sensation 2-way speaker.
Design Goals:
I wanted to upgrade the sound of my Echo Dots to listen to Spotify Premium. The regular Echo sound better, but just don't cut it. I like the look of antique radios instead of the plastic things made today.
Driver Selection:
275-030 Dayton Audio ND20FA-6 3/4″ Neodymium Dome Tweeter
297-429 HiVi B4N 4″ Aluminum Midbass Round Frame
My selection for drivers was easy since I just used the Overnight Sensation (OS) design.
Enclosure Design:
The speaker box portion was easy too since I just used the OS plans. Creating the enclosure for the amp, power supply, and Echo Dot took a bit more planning. I used Sketchup to design the radio. I used an antique radio dial frame from a General radio I found on eBay. It took some searching to find one the right size to house the Echo.
Enclosure Assembly:
Assembly was pretty straightforward woodworking.
I used oak wood. I created false inlay with a rotary tool and a homemade jig to carve grooves into the sides. I then stained the rows I wanted darker.
The 3/4″ oak was too thick to install the potentiometers, so I routed it to be thinner where I placed them. The left pot is just being used as a switch, not a variable knob.
The Echo is held in place with friction. I lined the hole with gasket tape and pressed it into place. Took a few tries and some wax paper to let me slip it in, but It finally made it in and won't go anywhere without a lot of effort.
I used some brass fidget spinner parts for feet. (Finally, those spinners find a useful role on this planet) The old antique radios didn't have brass feet, but this is my take on the radio, so I felt I had some artistic license.
The grill cover is a bit simpler than the old radios too. I didn't want anything other than the speaker cloth in front of the drivers.
Crossover Design:
I used the crossover designed by Paul Carmody for the OS speakers.
Conclusion:
I am happy with how it turned out. Now I am working on the left channel speaker. It will be another Overnight Sensation made from oak with the same design elements, but it will be a regular OS size since It won't house anything other than the drivers and crossover.
Previously, I built a retro video game console from a Raspberry Pi 3 for my boys. This laid an egg in my brain, and I think my next project will be a Raspberry Pi with touchscreen in a sound bar. I am leaning toward two Quark speaker and a Voxel subwoofer all housed in the sound bar. I think it'll end up being a smart-radio/alarm clock.
About the Designer:
I am a communication strategy Marine Corps gunnery sergeant. I teach public communication at the Defense Information School.
I spend my free time in my garage building things. My grandfather was a woodworker, and so is my father. I am not as into as they are, but I picked a few things up. I like woodworking, but I also used metal and electronics.
Project Parts List: