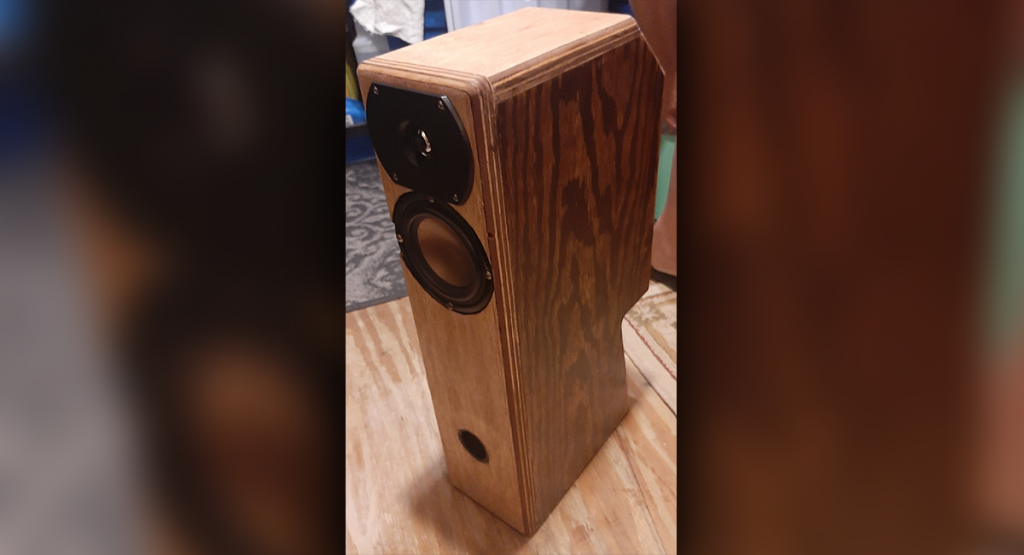 Yutta Hey
---
Designer:
Tanasi Audio
Project Category:
Freestyle Speakers
Project Level:
Intermediate
Project Time:
8-20 Hours
Project Cost:
Under $100
Project Description:
The "Yutta Hey" is a compact (by ¼wave enclosure standards) 2 way MLTL utilizing the Hivi B4N of "Overnight Sensations" fame.
Design Goals:
I wanted a nearfield system that left as little to be desired as possible in terms of the size of the bandwidth of the resulting frequency response of the system. I believe I accomplished this with enclosure size coming in at 11.4L a piece while being tuned to 40Hz. This gives a nice F3 around 38Hz or so out of a pair of 4″ drivers.
Driver Selection:
I chose the Hivi B4N (Parts Express part #297-429) based on familiarity with the driver and my opinion that it is the best budget small application bass driver on the market. This is an opinion I believe many others share with me. I love these little drivers and use them quite often.
Enclosure Design:
I design almost exclusively using ¼ wave theory to utilize different types of horns and transmission lines. So my main tool in doing this is David McBean's Hornresp simulation software. I chose an MLTL style of enclosure because it offers the smallest footprint of any of the ¼ wave style of enclosures. After many hours simulating different types of geometries I settled on a expanding offset driver with offset port line. Overall line length ended up being about 21″ with the B4n situated slightly before the midpoint of the total length and the port being located about 5″ on center from the floor of the enclosure.
Enclosure Assembly:
I picked a unique profile for my enclosures that mimics the shape of the geometry usually hidden inside of a transmission line. By folding the top ⅓ of the line towards the back of the enclosure and then cutting the sides of the cabinets to the resulting shape I managed to create a unique shape as well as moving the drivers positions to the top of the baffle even though they are at almost the halfway point of the line.
Crossover Design:
Crossover is a simple first order 13.6uf cap on the tweeter and .40mH coil on the B4N.
Conclusion:
Overall I believe this is the best sounding Speaker I have designed to date and I would recommend it to anyone looking for a nice wide bandwidth loudspeaker for a office or small room.
About the Designer:
I'm a 41 year old from the hills of East Tennessee. Who loves music almost as much as loudspeaker design.
Project Parts List: