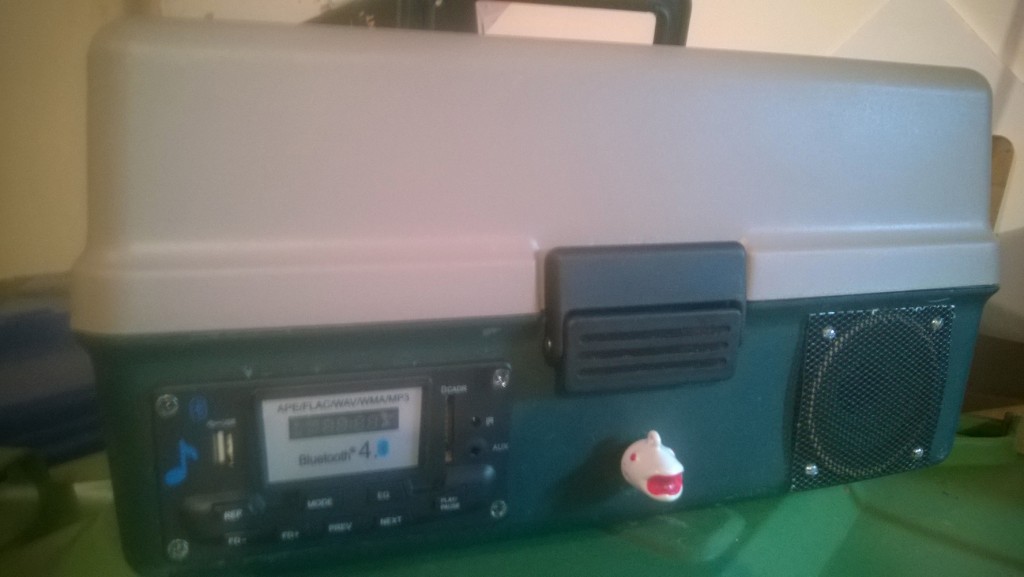 Tacklebox Tunebox
---
Designer:
Matt Hickey
Project Category:
Home Electronics
Project Level:
Intermediate
Project Time:
8-20 Hours
Project Cost:
$100 – $500
Project Description:
Turned a old Plano tackle box into a portable music player for my Nephew Jack. Battery lasts for days and stores a bunch of tackle.
Design Goals:
Fun, portable and functional tackle box that plays tunes. Support Bluetooth, SD and FM radio.
Driver Selection:
Quam 30C25Z8OT 3″ Moisture Resistant Speaker 8 Ohm
Part # 244-3222
Enclosure Design:
Plano Tackebox
Enclosure Assembly:
Cut front holes for speaker and MP3 module with Dremel. Mounted Amp center with custom volume knob. Built simple enclosure out of acrylic sheets to protect components
Crossover Design:
Single mono water resistant driver
Tips & Tricks:
-Get everything wired and working during mock up.
-Cutting and drilling the acrylic for the bottom enclosure was a major pain and I cracked a few sheets.
-Cut the head off a lure to make a custom volume knob.
Conclusion:
Sound is decent especially with box closed. Had to sacrifice some space in bottom tray but top is fully functional. Nephew loved it.
About the Designer:
Maker and Software Sales Engineer
Project Parts List: