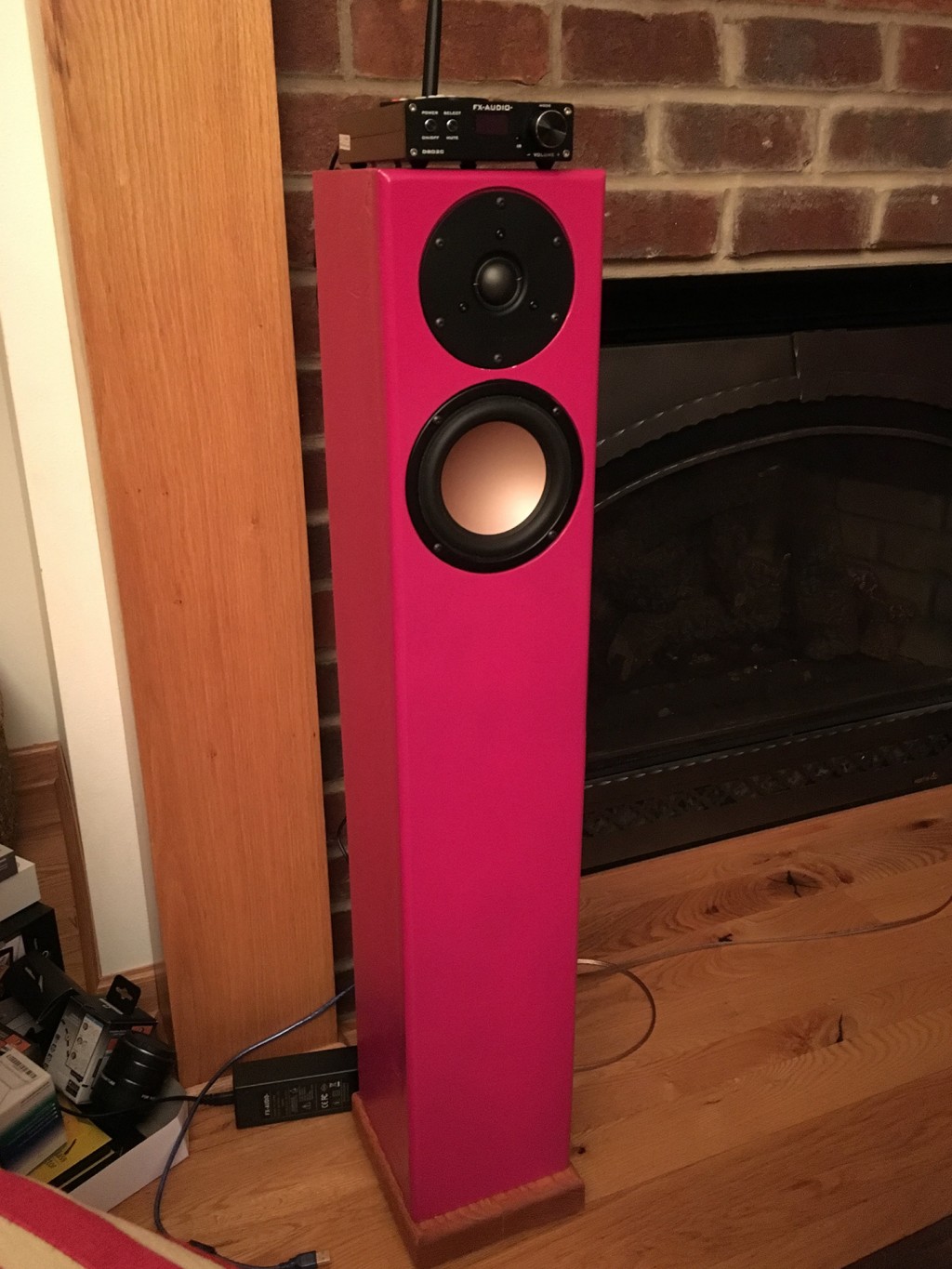 Pink and Gold
---
Designer:
Antpink
Project Category:
Tower Speakers
Project Level:
Beginner
Project Time:
20+ Hours
Project Cost:
$100 – $500
Project Description:
Wanted floorstanders and figured I could build some – longtime dream, finally realised! Used online calculators for speaker volume, crossover, bass tube and basic carpentry and soldering skills to put it all together. Great learning experience.
Design Goals:
Unique floorstanders that would both look and sound good.
Driver Selection:
HiVi M5N 5″ Midbass #297-417
HiVi Q1R 1-1/8″ Textile Dome Tweeter #297-417
Enclosure Design:
Own design based upon speaker volumes calculated online and recommended by the PE product pages
Enclosure Assembly:
MDF (never again!), cut to size, with speaker cutouts using a router. Wanted to be able to disassemble easily to access drivers, so box design much more complicated than it needs to be.
Crossover Design:
Used the very awesome XSim to select the components and make a custom crossover.
Tips & Tricks:
Keep it simple. My original speaker design was too complex, looked great on paper, but gave many headaches in the actual build process. Have the right tools.
Conclusion:
Won't use MDF again – too much dust that gets everywhere. My second set will be all wood.
Sounds good but amp specific – FX Audio amp delivers good sound across the whole range, very good mid, decent treble and bass – the M5N is a very good driver I think. Using a home built gainclone (another project) loses quite a bit of the bass.
I learned a lot of how not to do the next set – don't over complicate the box, it makes it very difficult to build, and get the right tools – long straight edges are difficult (I now have a table saw).
As a learning experience, it taught me a lot – the next one will be better and quicker as a result.
About the Designer:
Complete amateur, general manager by day, family man all other times – hope to teach my kids that there is value in "I made that!", which makes it fantastic, no matter what.
Project Parts List: