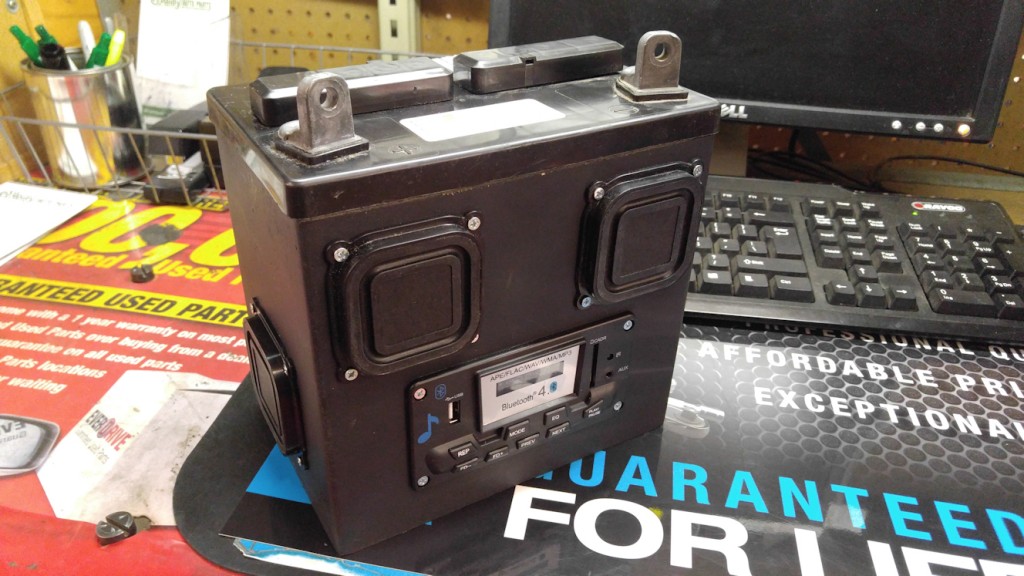 Battery Boombox
---
Designer:
J.J. Elias
Project Category:
Freestyle Speakers
Project Level:
Beginner
Project Time:
1-8 Hours
Project Cost:
Under $100
Project Description:
Modeled after a standard size Lawn & Garden battery
Design Goals:
A creative addition to my workplace office to be in the theme of my job as a parts store manager and as a conversation piece with my professional clients. But really it was to have something GOOD to listen to.
Driver Selection:
299-208 HiWave BMR12 Compact 2″ Full-Range Square Speaker 12W 8 Ohm
Enclosure Design:
Sealed box
Enclosure Assembly:
.75 inch MDF (sides and bottom) .375 inch Clear Pine
Crossover Design:
No crossover
Tips & Tricks:
All butt joints so keep those joints tight when gluing. Plenty of quick clamps make things much easier.
Conclusion:
A big sounding little conversation piece with multiple input choices and a small footprint.
About the Designer:
29 year veteran of the music industry (retired) as both an artist and sound engineer. Auto parts manager for the last 11 years and a moonlighting part time radio DJ.
Project Parts List: