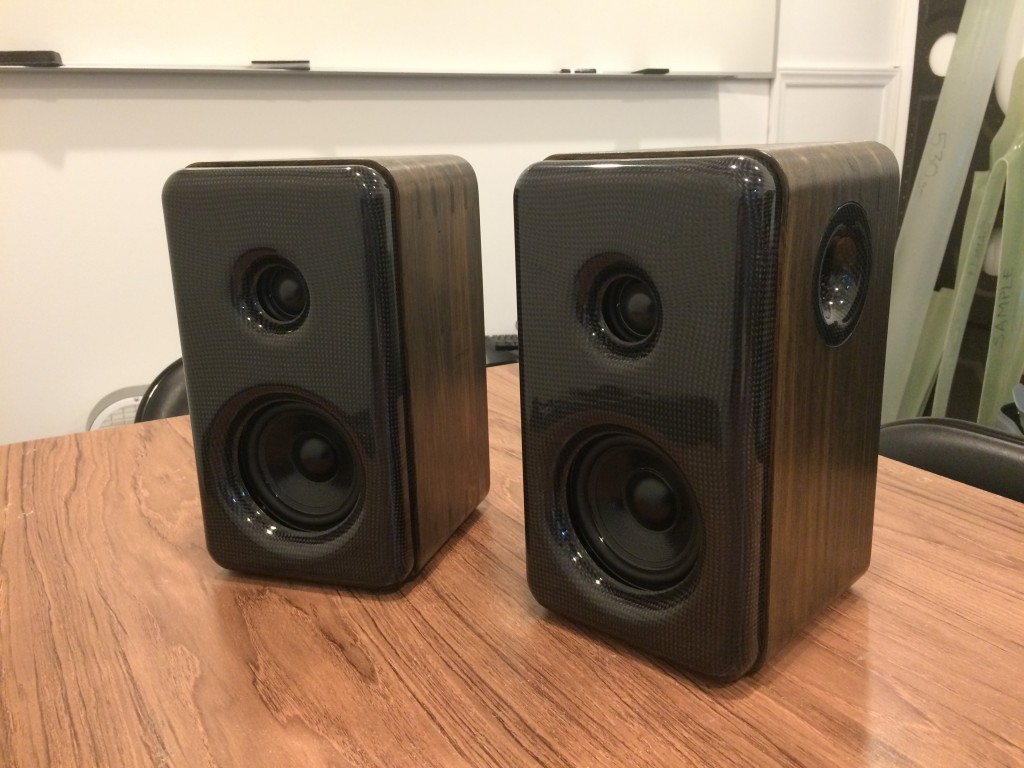 Christmas Gift
---
Designer:
Bob
Project Category:
Bookshelf Speakers
Project Level:
Advanced
Project Time:
20+ Hours
Project Cost:
$100 – $500
Project Description:
Bookshelf speakers
Design Goals:
Unique speakers with high quality sound and appearance
Driver Selection:
All Dayton Audio
1-1/8″ Classic Series Silk Dome tweeter 275-070
4″ Designer Series Coated Paper Cone Woofer 295-424
2-Way Crossover 260-148
Enclosure Design:
The top, bottom and sides of the enclosure are all reclaimed pine from a deck that was torn down. The joints are mitered with splines for reinforcement. The front and back faces of the enclosure are plywood with the front permanently epoxied in place.
Enclosure Assembly:
The speaker cover is carbon fiber/epoxy composite which was cured in a mold custom designed for this project. The vent ports on the side of the speakers are also carbon fiber as are the vent tubes inside the speakers which are connected to the ports.
Crossover Design:
See Parts Express 260-148
Tips & Tricks:
A significant part of this project was done on a CNC router table.
It could all be done by hand as well, however, it requires some carpentry experience.
Conclusion:
The idea was to make great sounding speakers that are unique and visually appealing.
About the Designer:
The designer is an engineer and composite parts designer/manufacturer in the aerospace industry. The goal was to put some of those characteristics in the bookshelf speakers to make them 'one-of-a-kind.'
Project Parts List: