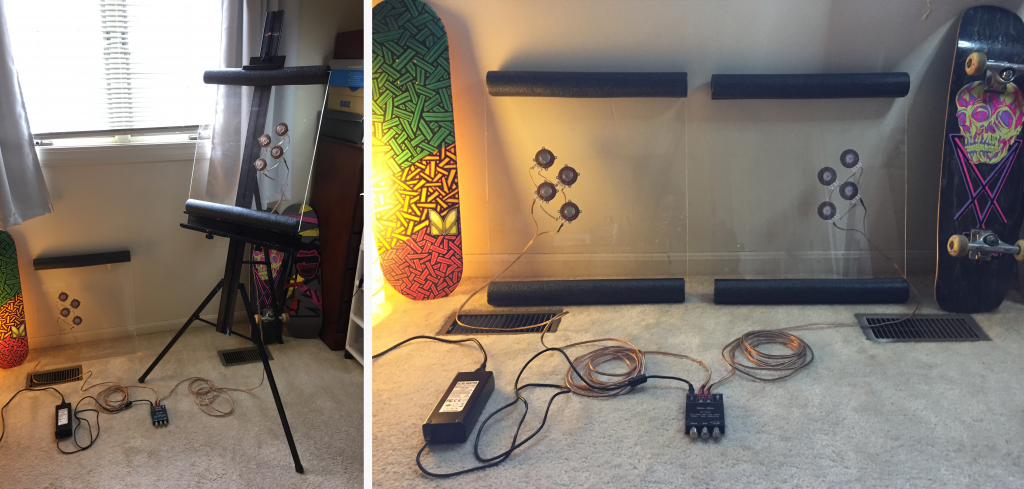 Fantastic 192 Watt DiY DML Panel Speaker build (Bertha)!
---
Designer:
Matty Hughes
Project Category:
Freestyle Speakers
Project Level:
Advanced
Project Time:
1-8 Hours
Project Cost:
$100 – $500
Project Description:
My new 192 Watt DIY DML panel build (Bertha)! At 20in x 22in each 1/4″ thick plexiglass panel is running at 4 ohm's @ 96 Watts, exciters wired in a series-parallel configuration for each panel and powered by a HiFi 100W x 2 (200W) Bluetooth 5 amp with a 24V 10a power supply. A total of 8 Dayton Audio DAEX25FHE-4 Framed High Efficiency 25mm Exciters each 24W 4 Ohm were used for this DML build.
Design Goals:
My design goals were to create a powerful and loud HiFi system from a pair of DML panels made of 1/4″ thick plexiglass.
Driver Selection:
Part# 295-224
Enclosure Design:
Plexiglass
Enclosure Assembly:
Plexiglass
Crossover Design:
none
Video:
https://www.youtube.com/channel/UCTebi_4eyK1xhpWHvAt00Rg
Tips & Tricks:
Providing the full power of a 24V 10a (240V total) power supply to a 200W HiFi amp with treble and bass regulation really took this project to the next level, along with placement of the exciters on the proper panel material. I found this great resource from Dayton Audio's site that helped me with this particular build here: https://www.daytonaudio.com/topic/excitersbuyerguide#installation
Conclusion:
Using multiple exciters configured and powered correctly on thick plexiglass produces unbelievably beautiful sound imaging- The best DML speakers I've ever heard for my third and most powerful DML panel build- Bertha!
About the Designer:
From a very young age, I've always been the type of person interested in how things work/function. Captivatingly intrigued with taking apart and reassembling different objects for fun or just to fix. I'm autodidactic by nature and have a voracious DIY ethic. I've worked in the creative fields of print + interactive + digital media for 20+yrs and continue to do freelance work remotely. I'm a geek @ ❤️ interested in art & music, sk8boarding, snowboarding, DIY projects ranging from arts & crafts, electronics, computer hardware mods and landscaping- a bonsai ninja I am indeed✨
Project Parts List:
| | | |
| --- | --- | --- |
| Part # | Description | Qty |
| 295-224 | Dayton Audio DAEX25FHE-4 Framed High Efficiency 25mm Exciter 24W 4 Ohm | 4 |