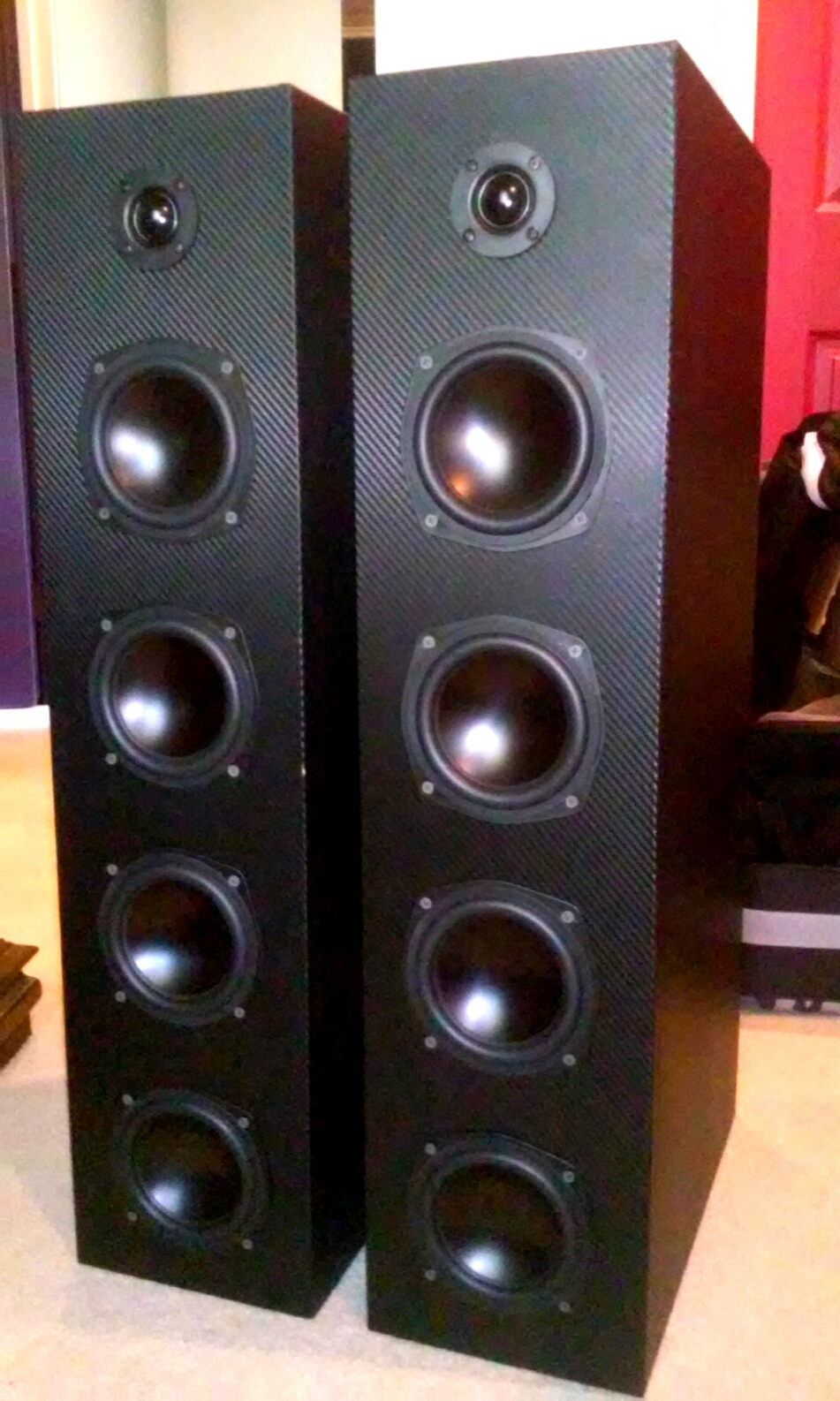 Passive radiator tower project
---
Designer:
Sebastian
Project Category:
Tower Speakers
Project Level:
Intermediate
Project Time:
8-20 Hours
Project Cost:
$100 – $500
Project Description:
34″ tall, 8″ wide, and 16″ long. About 2.3 cubic feet and about 180 watts rms each. 2 way design. 4 woofers and 1 tweeter crossed at about 3200 hz, simple 1st order. Woofers are wired in series and parallel for a 4 ohm load. Whole impedance is about 4.8 each First time using vinyl wrap and passive radiators. The 5.25″ woofers produce very nice mids and lows and the silk tweeters have really crisp highs and clear mids. Sound quality is outstanding and the bass is super clean and rattles my bedroom and the mirror in the bathroom. The loudness of the bass matches that of my diy Dayton ported 10″ subwoofer. The speakers alone do not need a subwoofer as they produce audible bass down to about 35 hz. Passive radiators are the way to go, they give your speakers twice the bass of using ports.
Design Goals:
Sound quality to match high end speakers. Lots of bass and a beautiful finish
Driver Selection:
Dayton Audio ND140-4 5-1/4″ Aluminum Cone Midbass Driver 4 Ohm
Dayton Audio ND25FA-4 1″ Soft Dome Neodymium Tweeter
Dayton Audio SD175-PR 6-1/2″ Passive Radiator
Enclosure Design:
3/4″ mdf. 2.3 cubic feet sealed.
34″ tall, 8″ wide, and 15″ long.
Crossover Design:
First order 2 way crossed at around 3200 hz
Conclusion:
I am very happy with the end result. It's just how i pictured it. Very happy with all products i used in this project and will definitely purchase them again in the future for other projects. If you're curious about using passive radiators i'd suggest trying them out but do some research on them first.
About the Designer:
I am only 19 when i built these and built my first speakers when i was 17 for a school project my senior year. I've built tower speakers, home subwoofers, car subwoofers, and install car stereos. I love audio, it's one of my passions.
Project Parts List