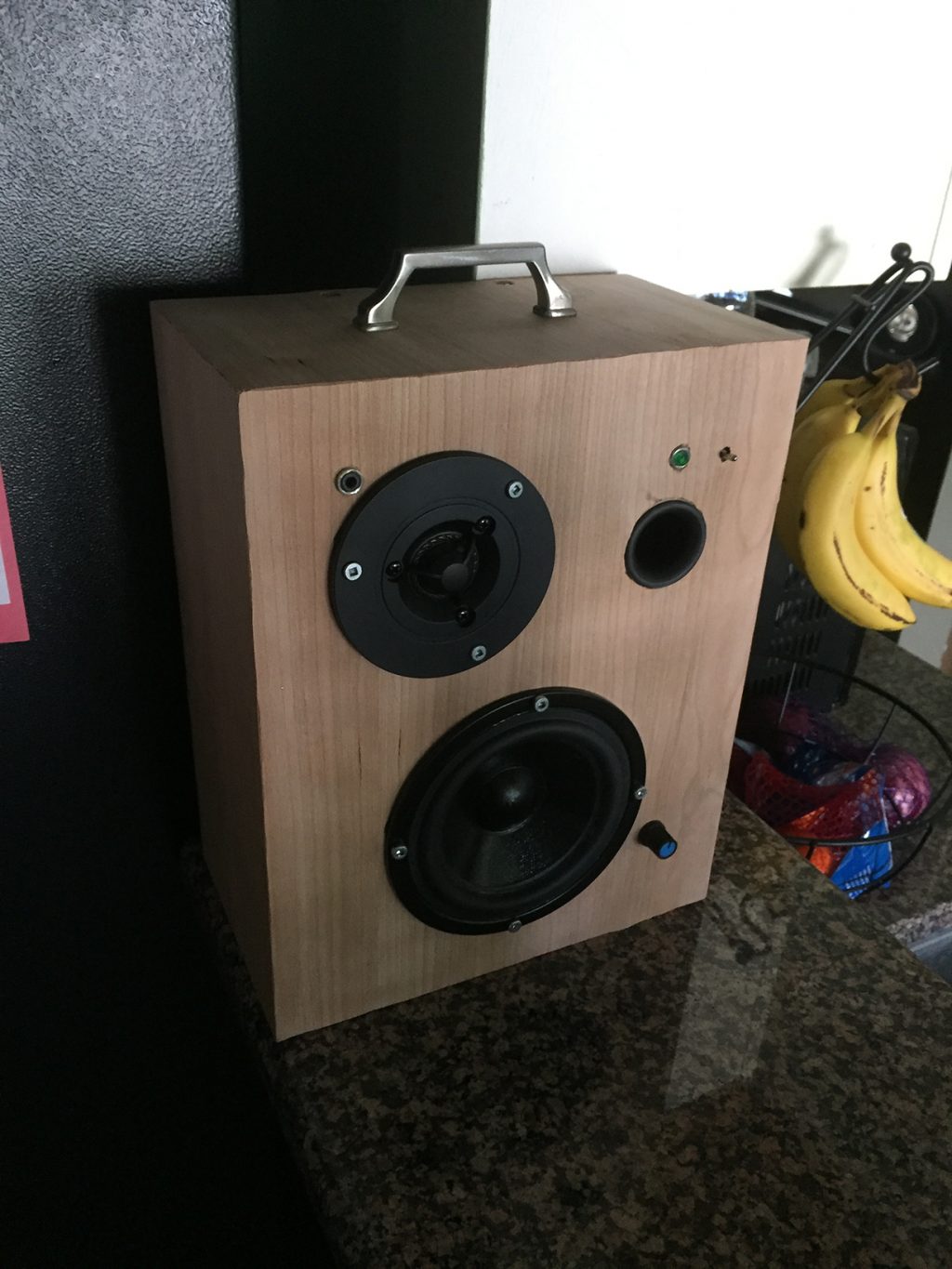 Portable BT
---
Designer:
Chris
Project Category:
Portable Speakers
Project Level:
Beginner
Project Time:
8-20 Hours
Project Cost:
$100 – $500
Project Description:
This build was my first attempt at building a speaker box. My previous store bought portable speaker gave out so I decided to make one rather than buy another. It is a ported box that contains a 5" midrange and 1" tweeter that can be powered by rechargeable battery pack or ac adapter.
Design Goals:
Needing a speaker that could be portable my goal was to make a box that was small enough to carry around but would still sound good.
Driver Selection:
The 5 inch midrange subwoofer part 295-426 will cover from 50 to 7,000 hz.
The 0.8 inch tweeter part 292-556 covers 1.2 khz to 22 khz. Both are 8 ohm speakers that handle 50 RMS.
Enclosure Design:
The box was constructed from 3/4 inch MDF and covered with a cherry veneer. It has a 1×4 inch port and a stainless carry handle. Measuring at 9 1/2" W, 12" T, 5 1/2" D weighing about 10-12 lbs. Its braced and polyfilled.
Enclosure Assembly:
Putting together the box was not difficult. After cutting all the dimensions I screwed it together with 1 1/4" pocket hole screws. For the bracing I cut out a circle in the middle of a left over piece of MDF then cut that in half. All seams inside the box were covered with silicone with exception of the back panel for access. Its filled with a couple of hand fulls of polyfil.
Crossover Design:
My crossover point is at 4000 khz.
Conclusion:
I am overall pleased with how it came out. The music is clean with crisp highs. It has moderate bass, about as much as you'd expect from a 5 incher. For a total cost $220 I built my first portable bluetooth speaker that I can take around where ever music is needed to fill a room.
About the Designer:
DIY'r with some woodworking experience.
Project Parts List: