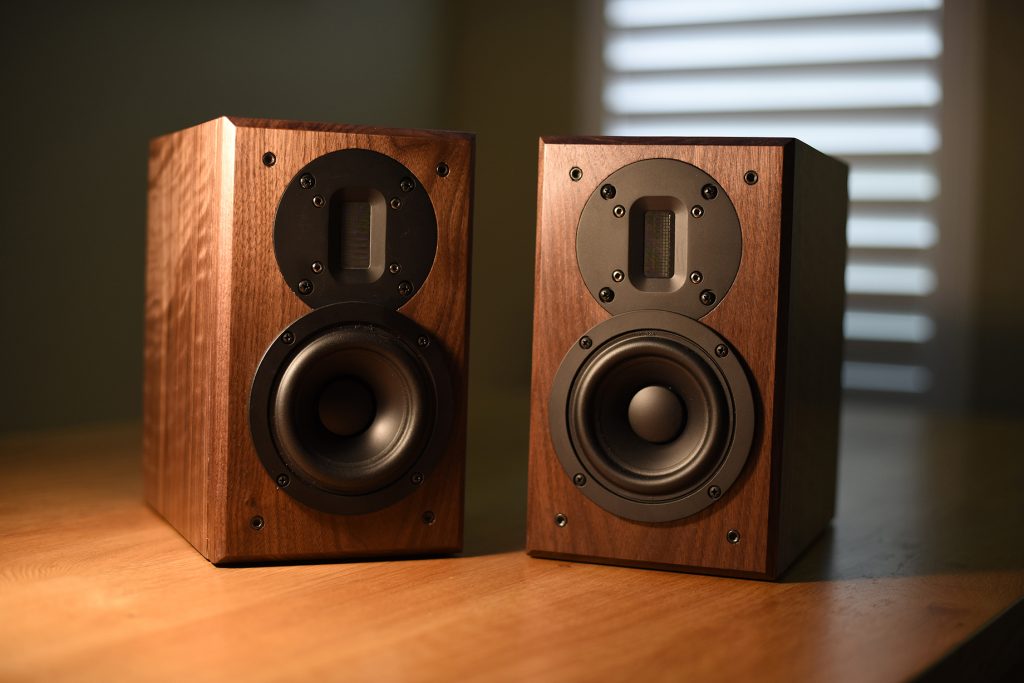 Winter Speedsters
---
Designer:
AmateurHi-fi
Project Category:
Bookshelf Speakers
Project Level:
Beginner
Project Time:
20+ Hours
Project Cost:
$100 – $500
Project Description:
I wanted to try and build a bookshelf sized speaker with good sound. Sometimes you just need a project to distract you from how cold it is outside (full disclosure, I live in N. California so when I say cold I mean around 35 degrees). I have a few nice tools, but not much experience in building speakers. I've only build two before this project. But what the heck, let's see if I can make these work. I purchased the parts as a kit, including a pre made crossover, since I don't know what I'm doing in that area yet.
Design Goals:
Something that looked nice and sounded great.
Driver Selection:
Woofer – Tang Band W4-1720 Part No. 264-872
Tweeter – Fountek NeoCD1.0 Part No. 296-701
Enclosure Design:
Simple box with A bracing, and some additional small bracing on inside sides.
Enclosure Assembly:
.75 and .50 MDF with Walnut veneer covering.
Crossover Design:
Pre made.
Tips & Tricks:
Veneering is tricky, and takes a lot of time, but once done it's really worth it. Makes the cabinets look beautiful.
Conclusion:
Conclusion: I'm very happy with them! They sound great, the TB woofer is really amazing. Nice bass. The time and effort that went into these is pretty considerable. I'm not sure how many hours it took to finsih everything, but be prepared for some long weekends. The cost of the parts (everything but the enclosure) was around $380, including a pre soldered crossover set.
So all in all probably a $425 project. Could I have taken the same amount and bought a pre made set, yes, but the fact that I built these, they sound great, and the pride of seeing my own work makes it satisfying. The speakers need a bit of power to drive them, since they're somewhere in the 4-6 ohm range supposedly. I'm using a 75W amp. Thes will go near my computer set up for near field listening, and maybe someday I'll
build matching stands and use them in a bedroom setting. Thanks to Paul Carmody for his sweet design!
About the Designer:
Amateur woodworker.
Project Parts List: