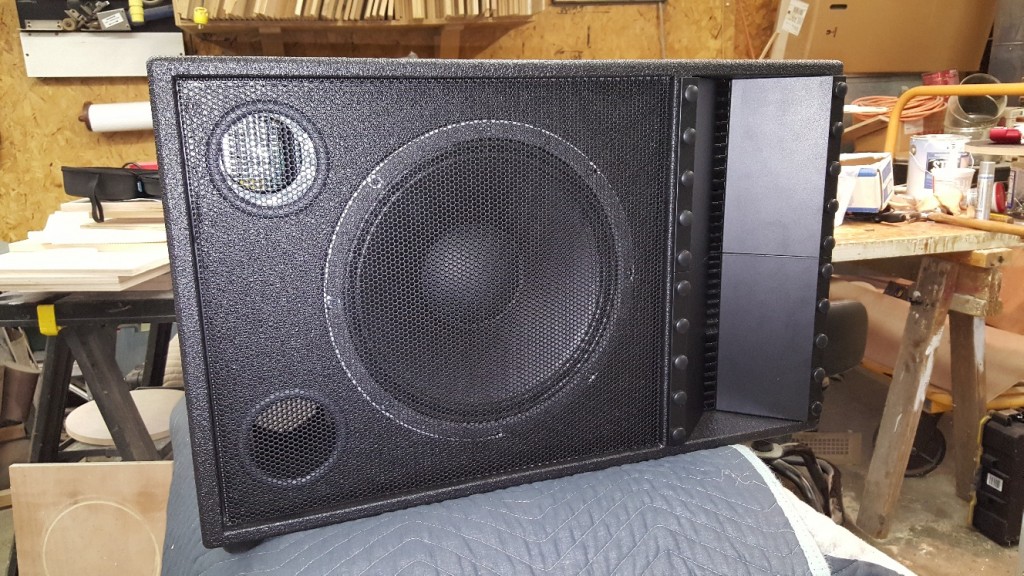 Active Portable Line Array
---
Designer:
SRL Loudspeakers
Project Category:
Loudspeakers/Cabinets
Project Level:
Intermediate
Project Time:
8-20 Hours
Project Cost:
Over $1,000
Project Description:
This project entailed building two (2) 12″ powered line array style PA speakers utilizing the best materials, components, and construction techniques.
Design Goals:
Build an enclosure that had very high SPL, power handling, and excellent fidelity. Maintain small size and weight while still having relatively low Fb and high SPL. Utilize line array wave guides for minimal vertical dispersion and greater on axis response.
Driver Selection:
Part # 290-589
Part # 290-527
Enclosure Design:
Enclosure was designed with two (2) separate chambers: the woofer chamber and the compression driver chamber. This made it much easier to prevent leakage through the wave guides or attenuation face plate. Box volume was 1.75 cubic feet with an Fb of 53Hz.
Enclosure Assembly:
5/8″ Baltic Birch plywood. Entire enclosure is held together with beach-wood biscuits,staples, and glue. This method while taking longer actually ensures a stronger bond and zero chance of vibration and resonant frequencies from fasteners coming loose.
The only fasteners that were used were 10-32 T-Nuts and grade 8 SHCS's to hold the drivers in place. Truss head screws were used to mount the Penn-Elcom handles and jack dish into place with foam gasket around the flanges.
Crossover Design:
Dayton Audio PMA800DSP 2-Way Plate Amplifier 800W 2-Channel with DSP and Bluetooth – 1,500 Hz Crossover
Conclusion:
While this project was very time consuming, it yielded a product far superior than any big name PA speaker that could be purchased. We utilized the finest materials, construction methods, and Eminence Drivers for a high quality product. This design is very unique in the sense that there are next to no PA speakers in the line array format using wave guides like this. These speakers have such controlled response and significantly high output that they can be set very far from the audience without the high frequency breakup associated with standard wave guides. These wave guides only have 10-15 degrees of vertical spread which results in next to no ceiling or floor bounce. This gives the end user more flexibility when setting up a venue.
About the Designer:
SRL Loudspeakers (founded 2017)
We were founded on guitar iso-cabinets and quickly moved into designing and building sound reinforcement cabinets for DJ's and mobile musicians. While lead times aren't our selling point, our quality and tonal characteristics speak for themselves.
Project Parts List: