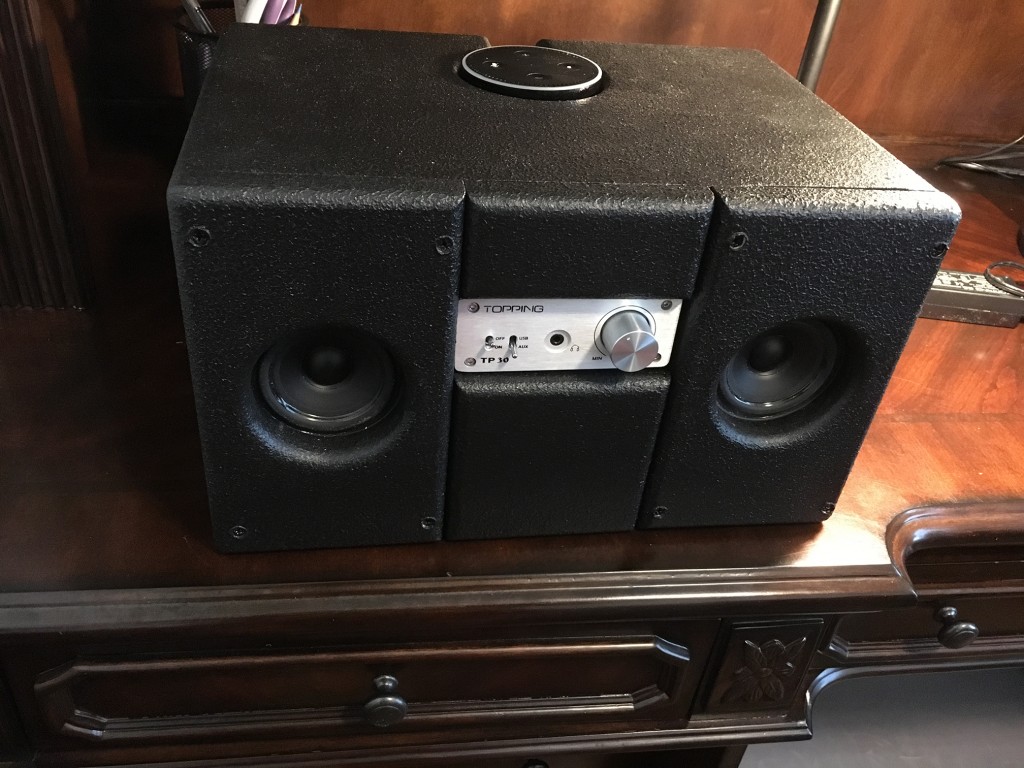 Echo Dot Dock
---
Designer:
Bigberts
Project Category:
Freestyle Speakers
Project Level:
Beginner
Project Time:
1-8 Hours
Project Cost:
$100 – $500
Project Description:
DIY Speaker dock with a recessed to hold an Echo dot, full range speakers and Topping T-amp with USB DAC.
All the cables are hidden in a compartment inside the dock with special slot to hold the Topping T-amp. The amp allows me to switch between My PC, the Echo Dot. The Dot runs at full volume with the amp providing
Design Goals:
Provide better sound for my office.
Driver Selection:
Dayton Audio DW3-1053SC 3″ Full Range Driver
Part # 264-880
Enclosure Design:
Basic sealed enclosure sufficiently sized for Dayton Audio DW3-1053SC 3″ Full Range Driver.
Enclosure Assembly:
Rounded cabinet edges and Duratex finish over MDF.
Crossover Design:
No crossover – using full range 3″ speakers
Tips & Tricks:
Some planning and measurement are needed to recess the Echo Dot
Conclusion:
Satisfactory sound in a compact speaker, This design could be adapted to any small full range/ 2-way speaker design using amplifier board or small amplifier. The Echo Dot provides Bluetooth connectivity and volume control if needed.
About the Designer:
I am an Chemical Engineer in Houston TX and have been dabbling with speaker building for the last 5 years.
Project Parts List: